Medit Scan for Clinics collects scan data with intra-oral scanners and offers a variety of features for analyzing the data. The program includes basic functions for locking or editing acquired scan data, as well as features to assist users with complex processes such as simulating insertion paths using undercut analysis, automatic abutment alignment, and automatic scan body alignment.
However, the program remains too complex for inexperienced users with little prior knowledge or experience to use the various functions. There are also users who only want the maxillary, mandibular, and occlusal data in order to manufacture orthodontic devices. As a result, we added the Simple UI Mode, which provides only the necessary functions for acquiring and editing scan data.
In Settings, you can toggle between Default Interface and Simple Interface. Simple UI Mode offers only basic features, and the use of certain stages and types of data that we support for Default Interface may be restricted.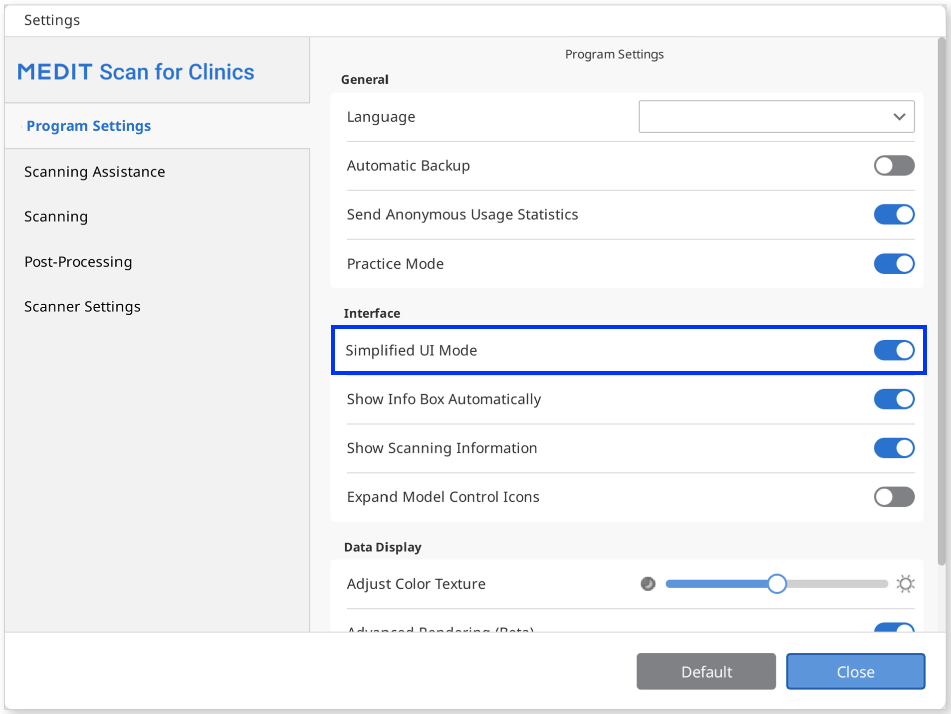 Simple UI mode - How-to Guide
1. The following Overview appears when you run the program with Simple UI Mode enabled.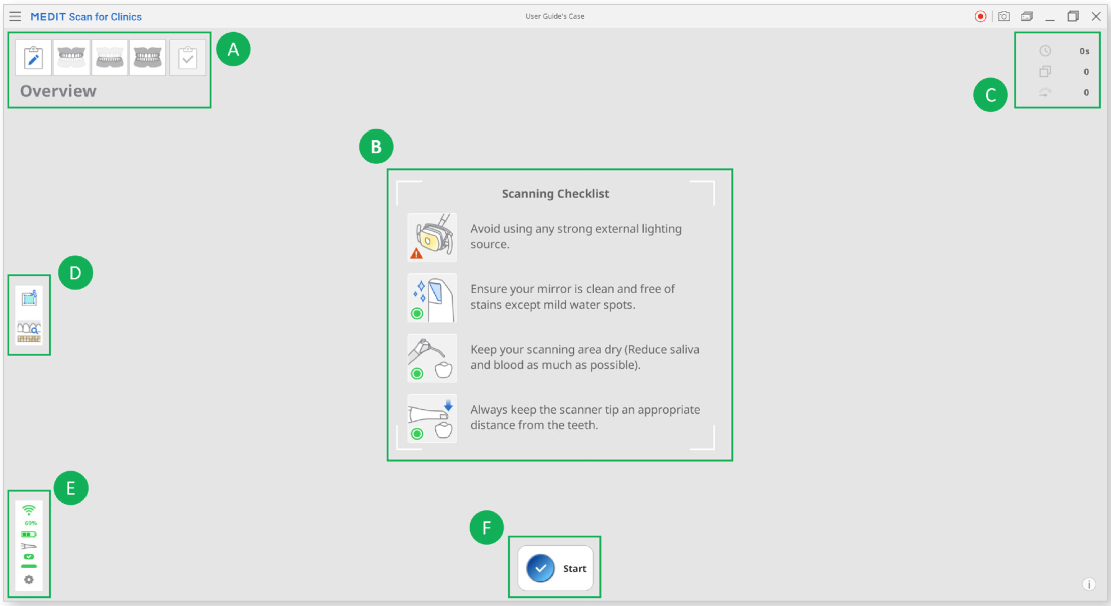 A. Scan Stages
B. Scanning Checklist
C. Scan Information
D. Main Toolbar
E. Scanner Status
F. Start Button
2. Click the Start button to enter the first step to acquire scan data.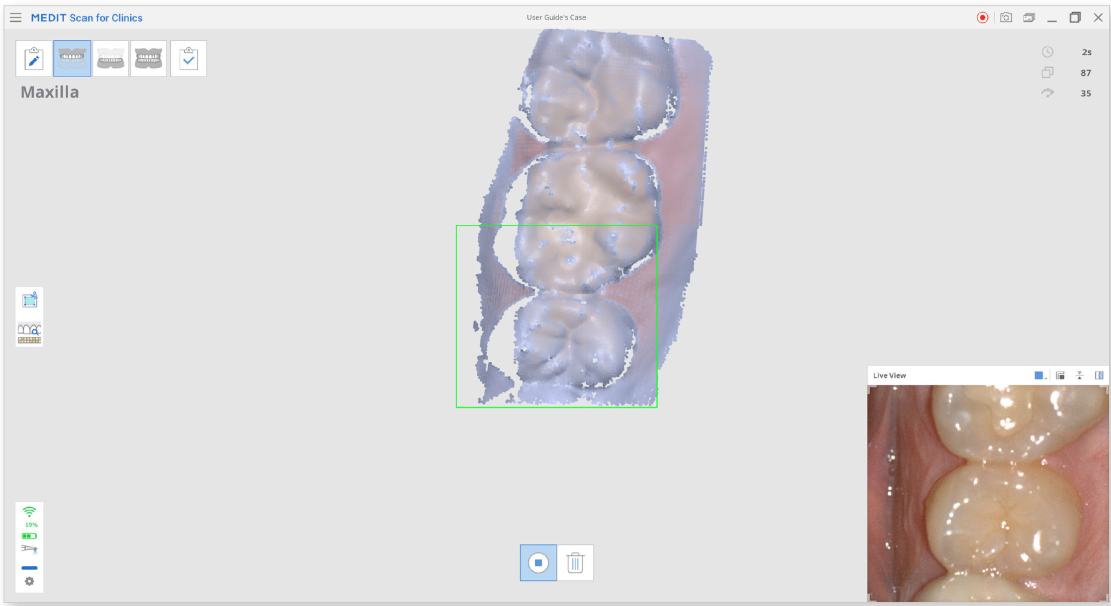 3. After data acquisition, only icons required for the current stage appear on the left side of the screen.
Trimming Tools
Smart Shade Guide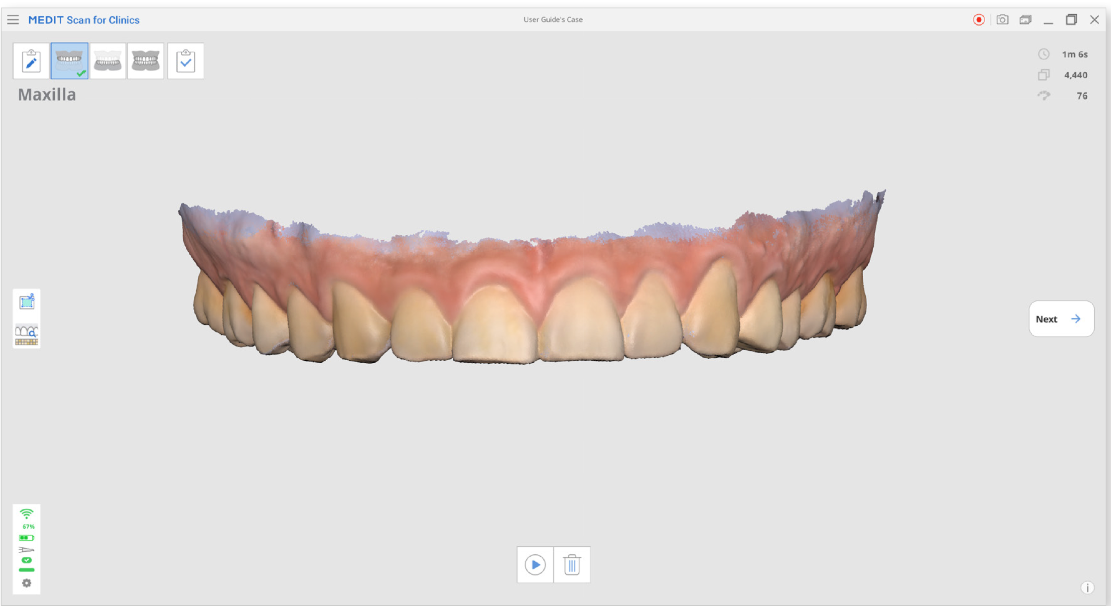 4. The following trimming tools are provided as a tool group to edit and remove noise from the data.
Polyline Trimming
Brush Trimming
Quick Trimming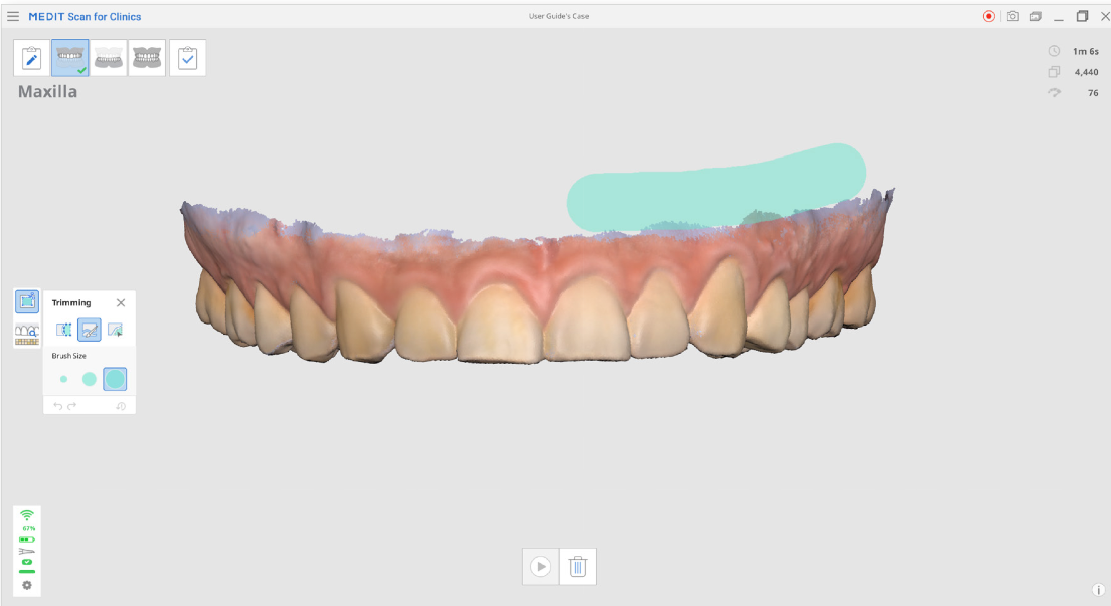 5. You can get shade recommendations by using the Smart Shade Guide tool.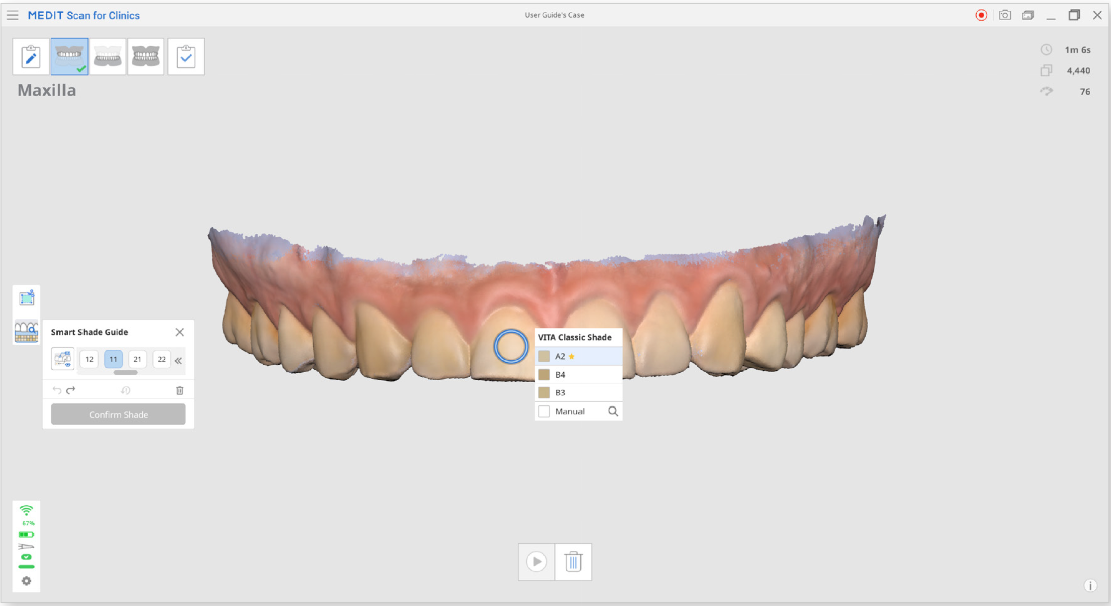 6. The "Next" button appears when you acquire enough scan data for the Maxilla. You can conduct additional scanning if needed.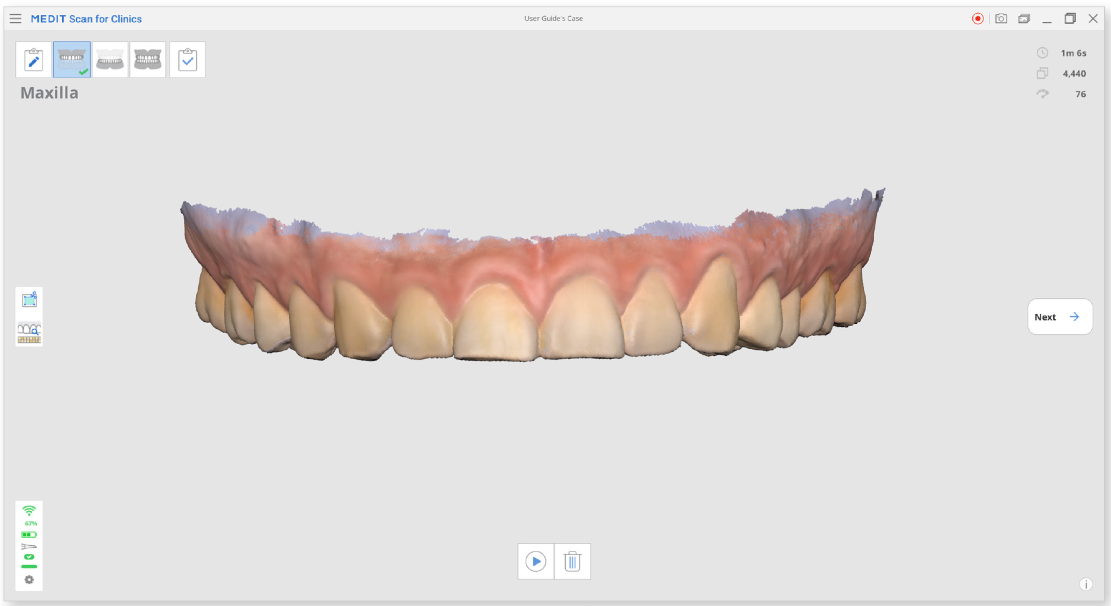 7. Click "Next" to move to the Mandible stage and acquire the mandibular scan data.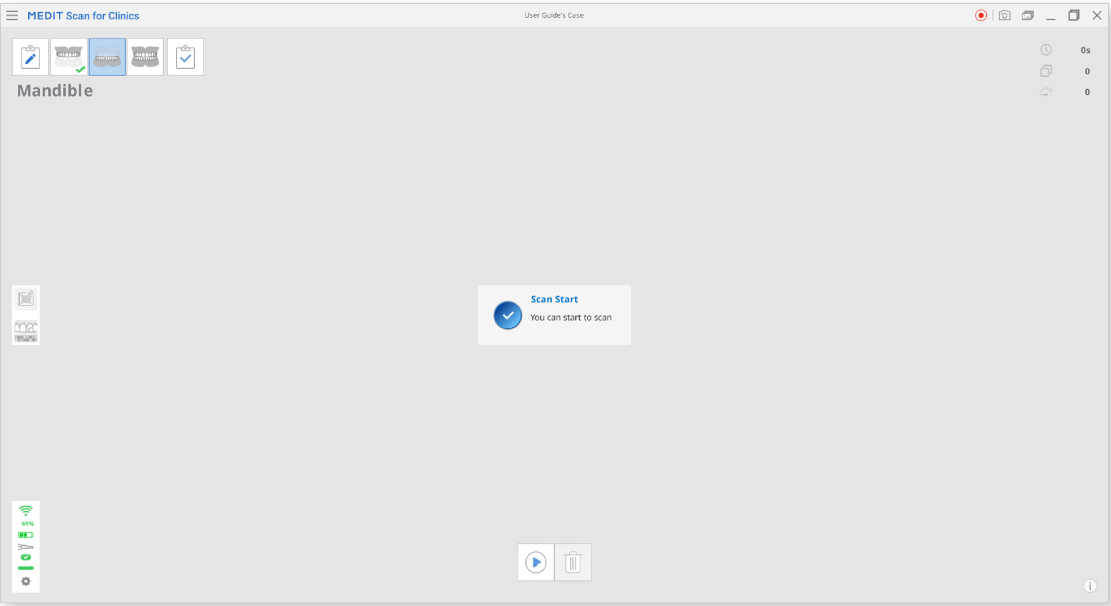 8. Acquire the mandibular scan data.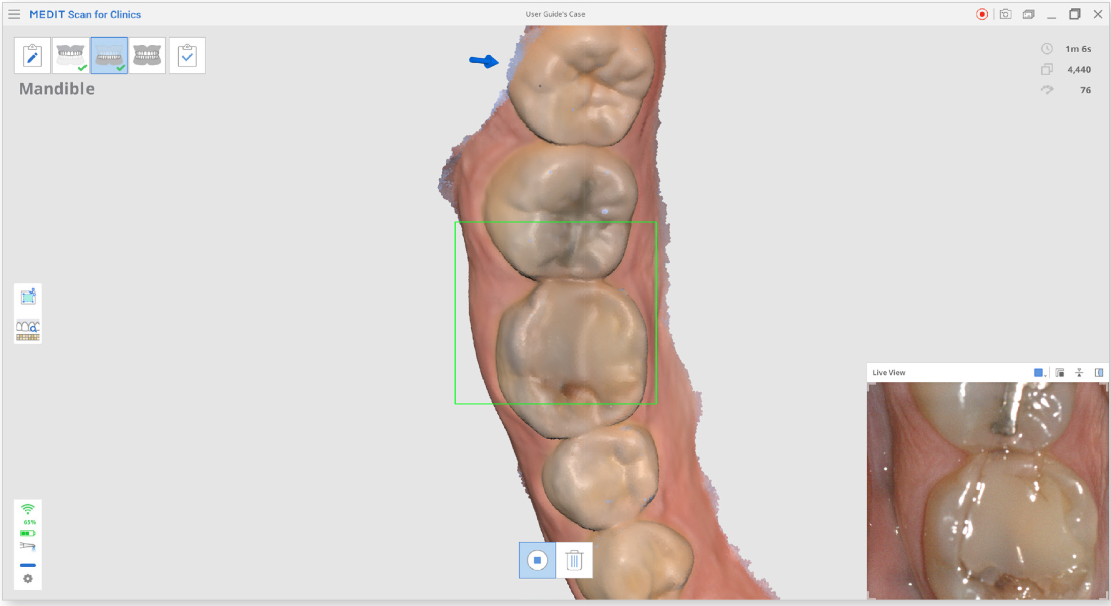 9. Click the "Next" button to move to the Occlusion stage.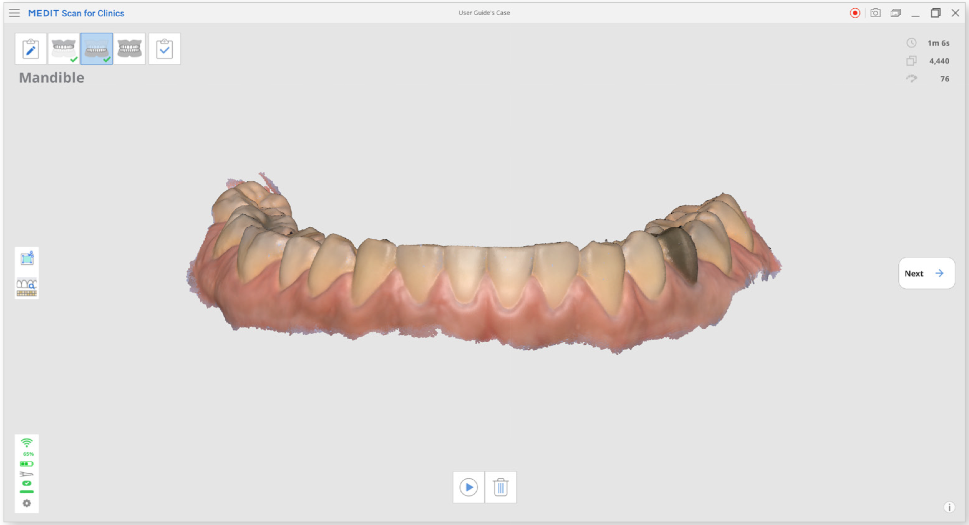 10. When the data acquired in Maxilla and Mandible stage displays on the screen, acquire occlusion data for occlusal alignment.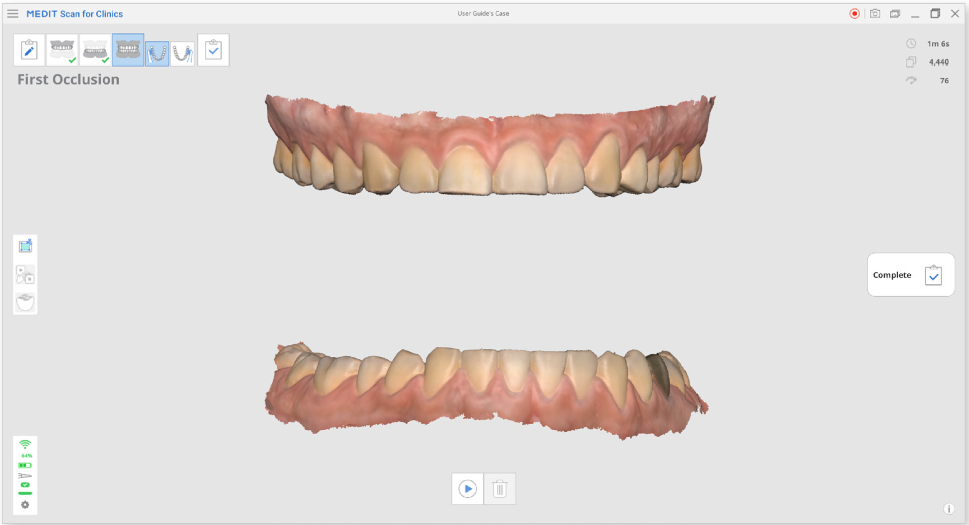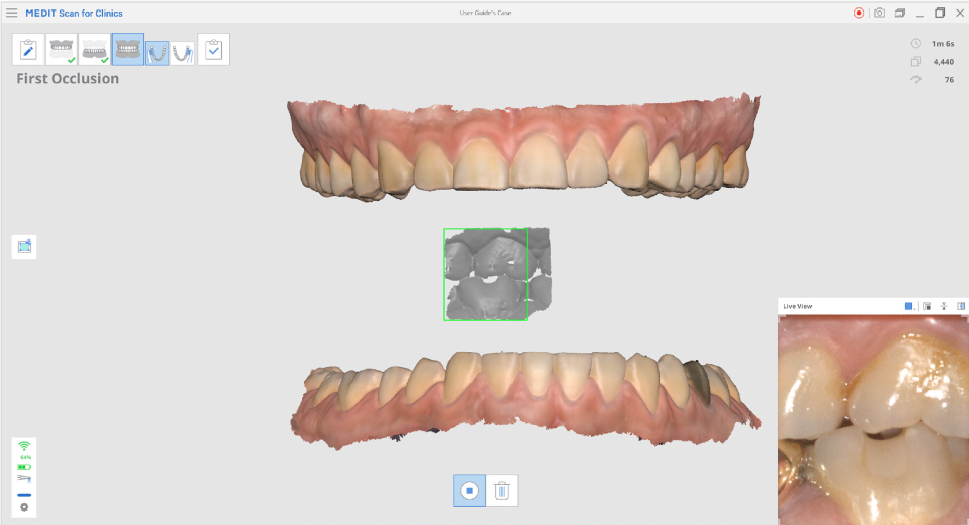 11. The following image shows when both maxillary and mandibular data align with the first occlusion data. If you want to acquire the second occlusion data, click the second occlusion button next to the Occlusion icon on the top left corner of the screen.
12. The following image shows when the previous data above aligns with the second occlusion data.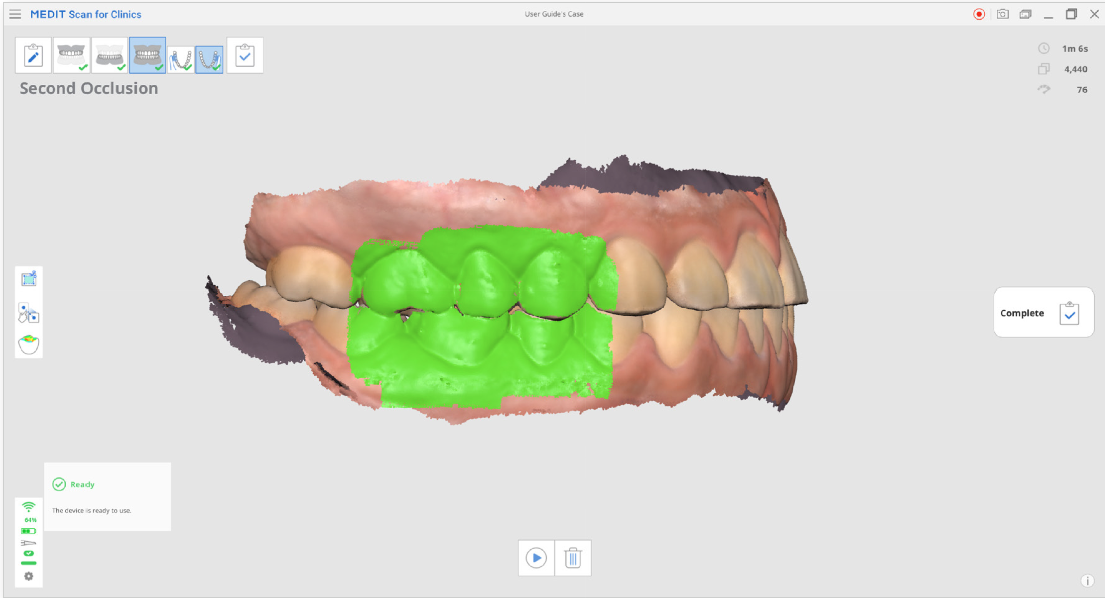 13. Click the "Complete" button on the right or the "Complete" icon on the top left after acquiring all data to process them.