❏ What is Medit Model Builder?
Medit Model Builder is designed to create physical models of intraoral scan data. It offers both orthodontic and prosthetic workflows that equip users with various tools to create a base and choose its type, fix occlusion through articulators, label them, and create dies before 3D printing. The base comes in three different types: ABO, Plate, and Plateless. With various adjustable parameters for all the above and drain holes, users can utilize the software for the optimal 3D printing process.
❏ Intended use and disclaimer
Medit Model Builder is a software application designed solely for the purpose of creating a model using scan data and cannot be used for other purposes.
❏ System requirements
Windows
CPU: Intel Core i5 2.6 GHz or higher

RAM: 16 GB or higher
Graphics: NVIDIA GeForce GTX 1060 (2 GB) or higher
OS: Windows 10 64-bit, Windows 11 64-bit
macOS
Chip: M1/M2 or higher
CPU: 8-core or higher
RAM: 16GB or higher
OS: Monterey 12
❏ Installation
1. Log in to your Medit Link account and go to the App Box.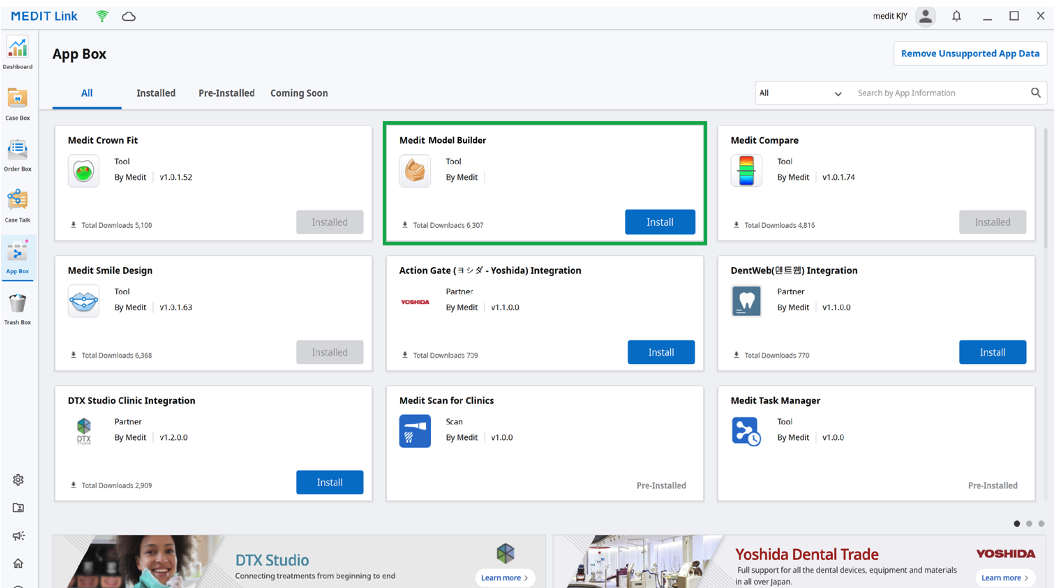 2. Find the "Medit Model Builder" app and click on the "Install" button.
Once the download is complete, the app installer will run automatically.
Read and agree to the License Terms and Conditions.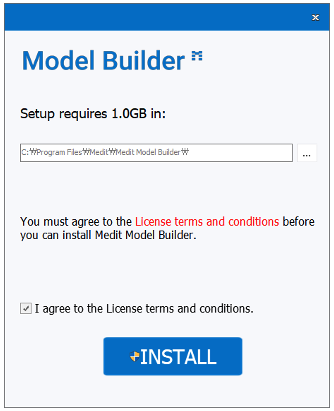 3. It may take several minutes to finish the installation process. Please do not turn off the PC until the installation is complete.
4. Click "Finish" to complete the installation.