❏ What is Medit Smile Design?
Medit Smile Design is a software allowing to perform smile design by working on 2D images. Users can use the pre-set teeth templates and customize them with a number of various tools for modifying their color, shape, position and scale. Explicit explanations and guide messages are accompanying each stage on the left side of the window.
Medit Smile Design can be run from both Clinic and Lab Accounts in Medit Link.
❏ Intended use and disclaimer
⚠︎ The user is entirely responsible for the smile design process and informing the patients that the simulation results generated by the application may not be precise or reliable; it should only be used for consultation or communication purposes. Medit does not take any responsibility or liability for any misunderstandings or miscommunications that might happen. The application is to be used solely for communication purposes.
⚠︎ Medit Smile Design is not developed for using in medical or clinical purposes.
⚠︎The software may not be used for the following purposes:
For the purposes of diagnosing, treating, mitigating, or preventing diseases.
For the purposes of diagnosing, treating, mitigating, or preventing injuries or disorders.
For the purposes of inspecting, replacing, or transforming a structure or function.
❏ System requirements
Windows
CPU: Intel Core i5 2.6 GHz or higher

RAM: 16 GB or higher
Graphics: NVIDIA GeForce GTX 1060 (2 GB) or higher
OS: Windows 10 64-bit, Windows 11 64-bit
macOS
Chip: M1/M2 or higher
CPU: 8-core or higher
RAM: 16GB or higher
OS: Monterey 12
❏ Installation
1. Log in to your Medit Link Account and go to the App Box.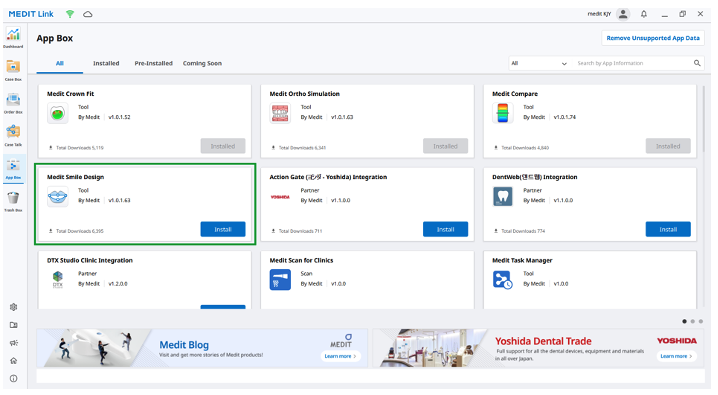 2. Find "Medit Smile Design" app and click on the "Install" button.
Once the download is complete, Medit Smile Design will be run automatically.
Read and agree to the License Terms and Conditions.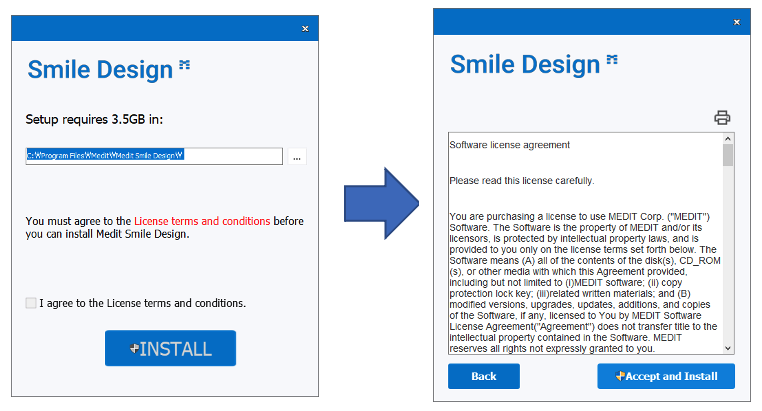 3. It may take up to several minutes to finish the installation process. Please do not turn off the PC until the installation is complete.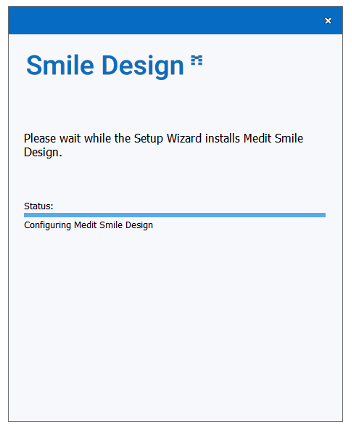 4. Click "Finish" to complete the installation.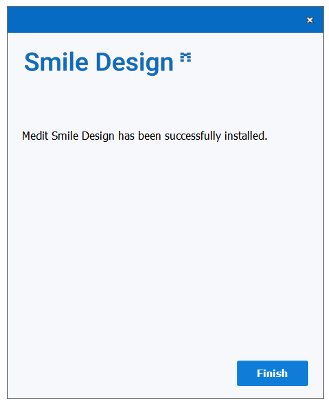 5. Restart Medit Link.