Anyone who receives the weblink for a shared scan data can check the scan data through a web browser, so be careful when sharing the weblink.
❏ System requirements for the Web viewer
The system requirements for the Web Viewer is as follows:
- Web browsers that can run Web Viewer.
PC: Chrome, Firefox, Safari, Edge (Chromium)
Android: Chrome, Firefox
iOS: Safari, Chrome, Firefox
- Minimum system requirements for Web Viewer.
Device: Android (equivalent to Galaxy S7 or higher) / iOS (equivalent to iPhone 7 or higher)
OS: Android 7.1 Nougat or higher / iOS 11.0 or higher
RAM: 3GB or higher / 2GB or higher
AP: Snapdragon 710 or higher / A10 Fusion or higher
❏ Web viewer overview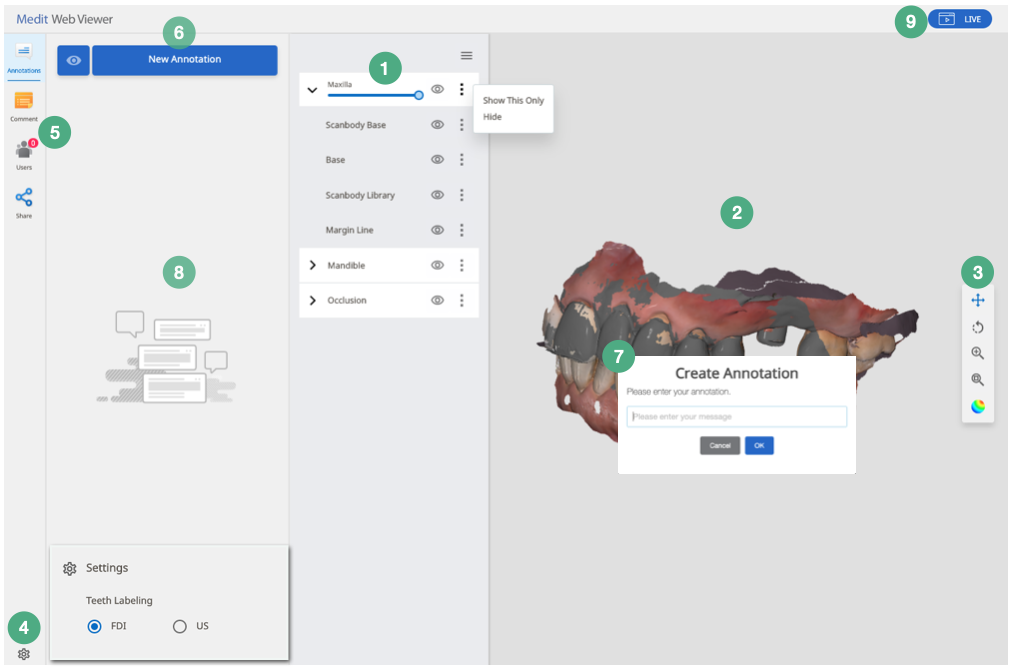 (1) Tree view: shows the list of shared data. You can easily check the desired scan data by hiding, showing, or changing its transparency.
(2) 3D preview: renders the preview of selected files. You can create or delete annotations.
(3) You can turn on/off the tree view and the color texture mode.
(4) Choose the teeth labeling method: FDI or US.
(5) Communication tools: Annotation, Comment, Watcher.
(6) Available options appear according to a selected feature: annotation, comment, or watcher.
A user name is required to make annotations and comments.
Only users entered their user name will be shown on the watcher list.
Even without a user name, you can still check the scan data.
Annotation: You can cling an annotation to a specific position of the scan data. Click the New Annotation button and move the cursor to a position in which you want to create an annotation. You can hide/show annotations by tapping the eye icon.
Comment: You can leave comments. Comments cannot be clung to the scan data.
Watcher: shows the current web viewer users who entered their name.
(7) You can read annotations by clicking on annotation icons appearing on the scan data.
You can delete annotations or reply to annotations.
When you click an annotation, the 3D viewer will be centered around the selected annotation so that it can be read easily.
After selecting New Annotation, click a desired position on the 3D data. You can create an annotation through the icon appearing on the clicked position.
(8) Annotation list: If you choose an annotation from the list, the 3D viewer will be centered around the selected annotation so that it can be read easily.
When comment is selected for the communication tool, the list of comments appears here.
(9) Web Viewer Live
When you activate Web Viewer Live by clicking the Live button, the current view will be shared with everyone accessing the link. Changing the current view by rotating, panning and zooming in/out on the 3D model will be also shared with them in real-time.
Only one person can operate the Web Viewer Live mode at a time. If another user wishes to take control, the current operator needs to end his session by clicking Finish.