Use a browser to access shared data in Case Talk.
Annotations and comments allow you to communicate with other people who have access to the link.
⚠︎ Medit Link China does not support the following features: Live, Attendee, Annotation, and Comment.

(from left to right)
Download: Save all of the files in this case to your PC.
Case Information: Display detailed case information.
Share: Change the "Share" option.
Live: Share your screen with other users who are connected. The screen sharing is synchronized with the users who are connected.
Attendees: Displays all users who are linked to the shared link.
Tooth labeling: The method of labeling teeth.
Annotation
Annotations can be added to a specific location on the 3D model. Anyone with the link can view the annotations you add.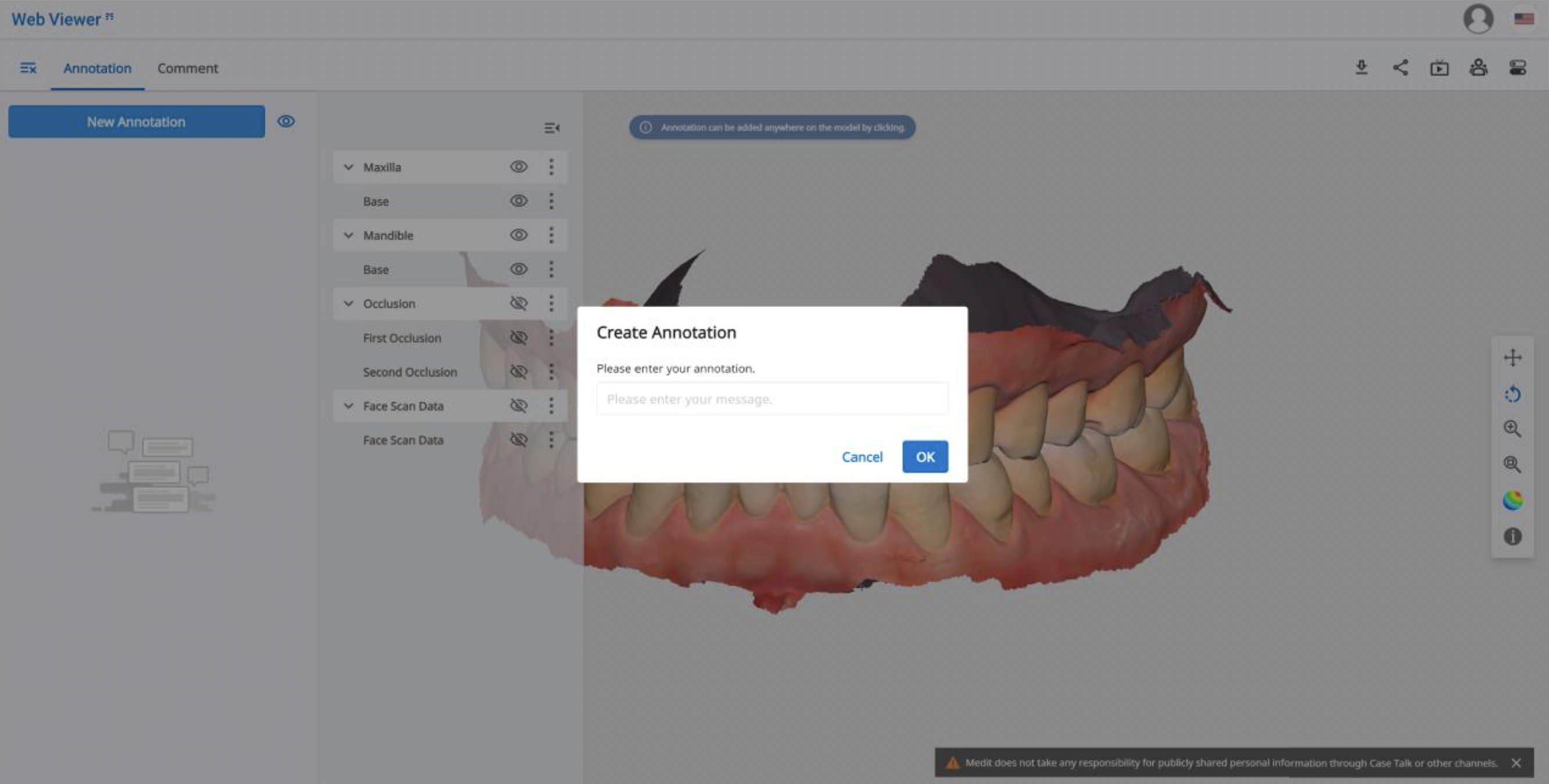 1. On any specific spot, click "New Annotation."
2. Type your message, then click "OK" to create an annotation.
3. Enable the conversation by annotating it.
Comments
Communicate with users who have access to the link.
Real-time screen sharing
1. Click "Live" to share your Web Viewer's real-time screen with the users who are connected.
2. Click "OK" to begin screen sharing.
3. Other people who have clicked on the link have agreed to screen sharing.
4. The screen of the user who requested screen sharing and the screen of the person who received the request are synchronized.
Web browsers that can run Web Viewer.
PC: Chrome, Firefox, Safari, Edge (Chromium)
Android: Chrome, Firefox
iOS: Safari, Chrome, Firefox
Minimum system requirements for Web Viewer.
Device: Android (equivalent to Galaxy S7 or higher) / iOS (equivalent to iPhone 7 or higher)
OS: Android 7.1 Nougat or later / iOS 11.0 or later
RAM: 3GB or higher / 2GB or higher
AP: Snapdragon 710 or higher / A10 Fusion or higher