Cleaning up the data created while using the Medit Link application can help you free up space on your local disk.
1. Launch the Medit Link app.
2. Select Settings > Storage Management from the menu.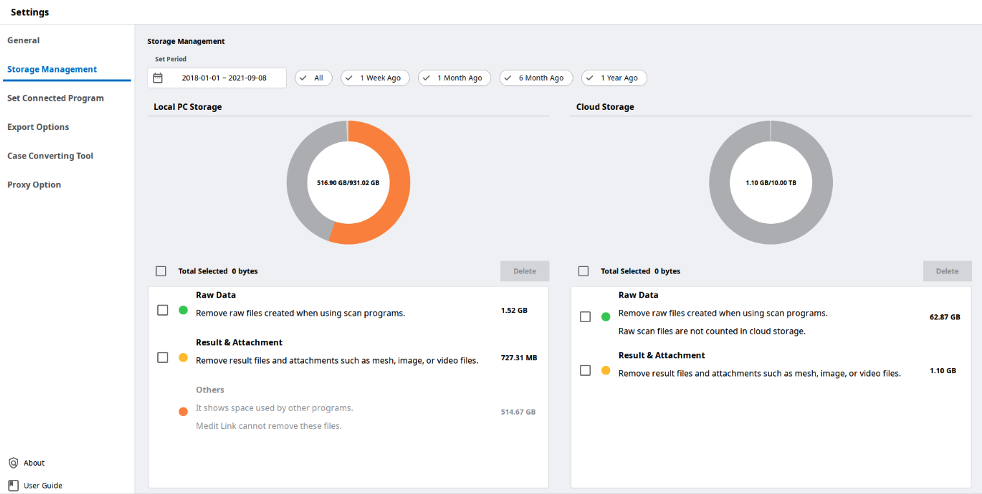 ❏ Set period
Set the period and select the file to be deleted. You can see the files that have been created within the specified time frame (All, 1 week ago, 1 month ago, 6 months ago, or 1 year ago).
❏ Local storage
Raw data: Remove the selected raw data from the computer. If the raw data has already been uploaded to the cloud, you can download and use it at any time.
Result & attachment: Remove the result and attachment files from the PC, such as mesh, image, and video. If you have already uploaded these files to the cloud, you can download and use them whenever you want.
Others: Check the files that are used to run the system and other programs. It displays your computer's storage. These files cannot be removed directly from Medit Link.
Delete: Deletes selected files from the computer.
❏ Cloud storage
Raw data: Because raw data does not require cloud storage, it will not be included in the pi-chart. You can also manage raw data for specific purposes such as data security.
Result & attachment: The result and attachment files consume cloud storage space. If your cloud storage is full, you can free up space by deleting unnecessary files.
Buy storage: If you have a Standard membership, you can upgrade to a Premium plan to get more cloud storage.
Delete: To free up space, delete selected files from the cloud storage.
⚠️ Only the Administrator account has access to the "Delete" function.
⚠️ You will not be able to use the "Buy Storage" or "Delete" functions if you log in with a Member account.