Maxilla
acquires 3D images from the maxilla.
❏ Related contents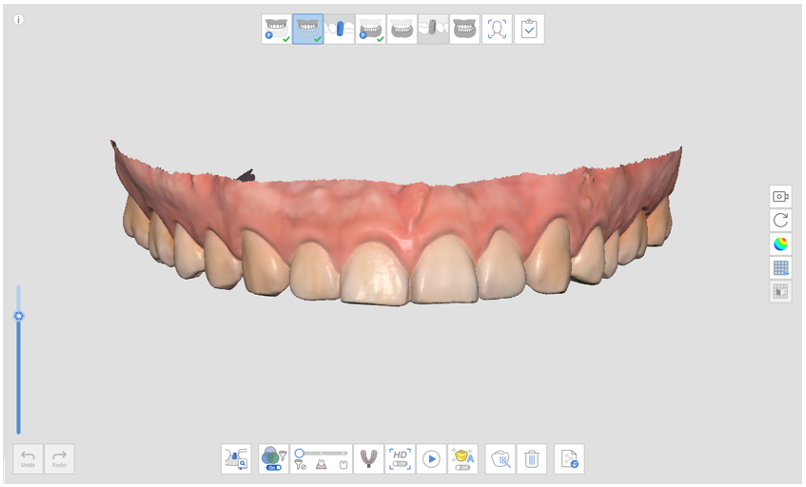 ❏ Command options

Start scan
starts the scan process.
Alternatively, you can use the function button on the device.

Stop scan
stops the scan process.
Alternatively, you can use the function button on the device.

Optimize
aligns the acquired 3D scan data.
The optimization process removes all noisy data from the acquired scan data.

Impression scan
acquires 3D images from an impression model.
While scanning the impression model, the impression data is aligned with the intra-oral scan data.

High resolution scan
acquires high-resolution 3D images from the whole or partial scan area.

High-resolution and standard-resolution images are combined during the post-processing.

Delete
deletes all scan data acquired in or related to the current stage.

Undo
Undo the previous action.

Redo
Restores any actions that have been previously undone by undo.

Smart color filtering
You can register and manage up to 3 colors to be filtered out while scanning in order not to acquire unnecessary data other than teeth and gingiva.

Metal scan
If this option is activated and a metal prosthesis is detected while scanning, the scan performance gets optimized for scanning metal prostheses.

Import scan data
You can import various kinds of scan data (Meditmesh, OBJ, PLY, STL) and perform additional scanning.

Smart scan filtering
removes unnecessary soft tissues depending on the selected filter.
No filtering: Soft tissue remains intact. This option is useful when scanning an edentulous case, dental model, or stone model.
Teeth + Gingiva: removes soft tissues that interfere with the scan, leaving only the necessary gingiva. You can use this option for most of general scan cases.
Intense Teeth + Gingiva: Scan data is acquired only from the gingiva within a certain distance from the tooth. By scanning only the area required for patient consultation, unnecessary soft tissue trimming is reduced.
Teeth: removes all other data except for teeth and the least amount of gingiva. This option is effective when you need to perform additional scanning for only the teeth after you scanned the case using the "Teeth + Gingiva" option.

A.I. abutment matching
Users can add their abutment files to the library and mange those files.
The library data is automatically aligned with the scan data so that the user does not need to scan the entire shape of an abutment placed in difficult-to-scan intraoral areas.
The library data can be shared for the CAD stage. (exocad only)