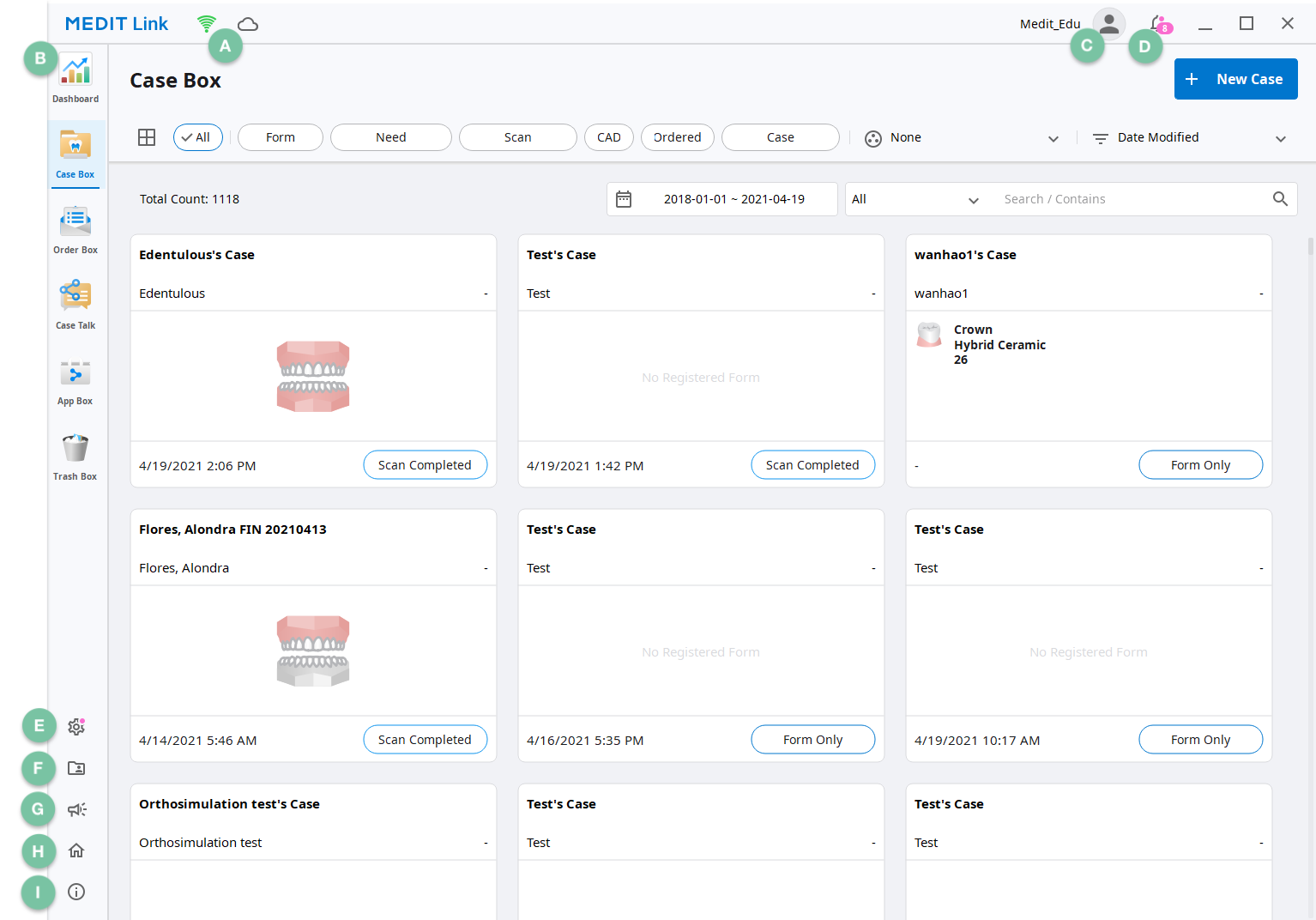 [A] Network connection
: The Medit Link application requires a network connection for data synchronization and handling orders.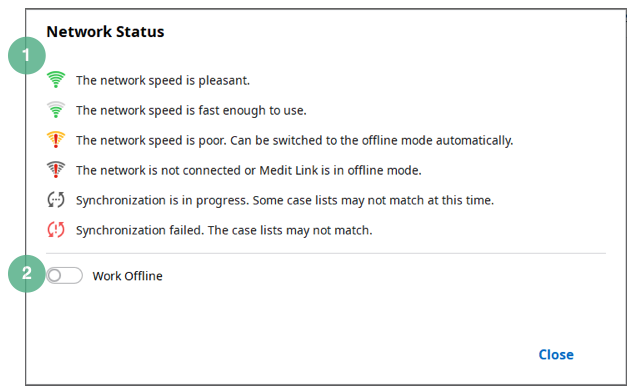 (1) The icon shows the network connection status.
(2) You can run the Medit Link application in offline mode, in which you can still use all other features except for data synchronization and sending orders.
[B] Menu
: Dashboard, Case Box, Order Box, App Box, and Trash Box.
[C] My information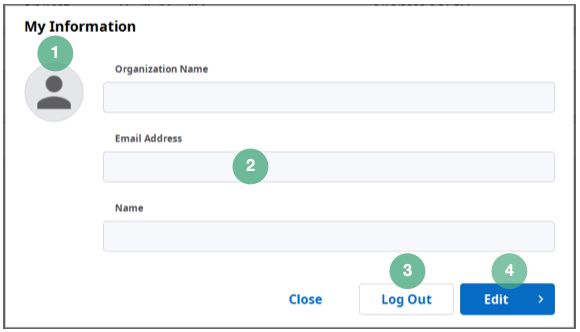 (1) Your profile picture is shown here. Click on the gear icon to edit your account information.
(2) Account information: organization name, email, account name
(3) You can log out of the current account. Logout will automatically restart the application.
(4) You will be taken to Medit Link Web > My Info > My Account so that you can edit your account information.
[D] Notification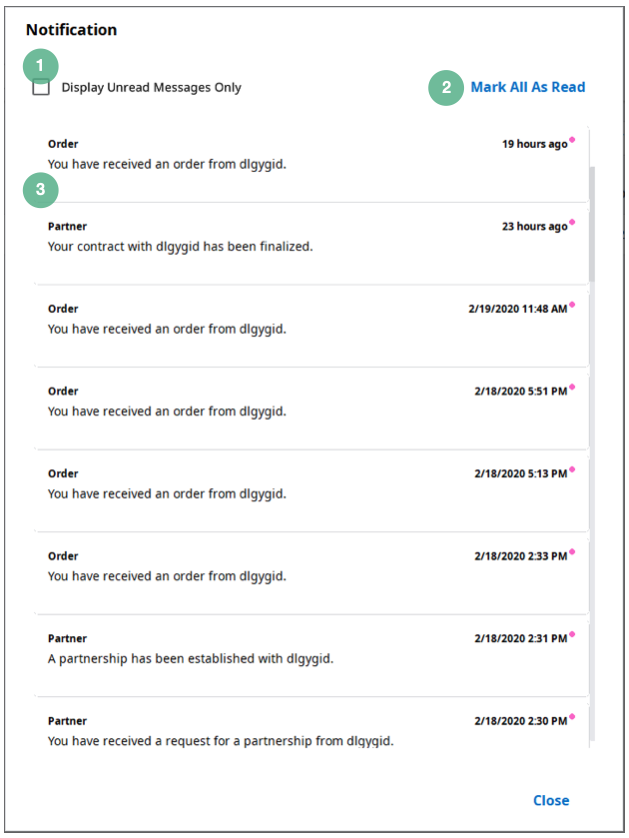 (1) Show unread messages only.
(2) Mark all messages as read.
(3) Shows preview text and message delivery time. If you click on a message, you will be redirected to the corresponding case or webpage.
[E] Settings
[F] Patient management
Patient management tool provides functions for adding, editing, and merging patients.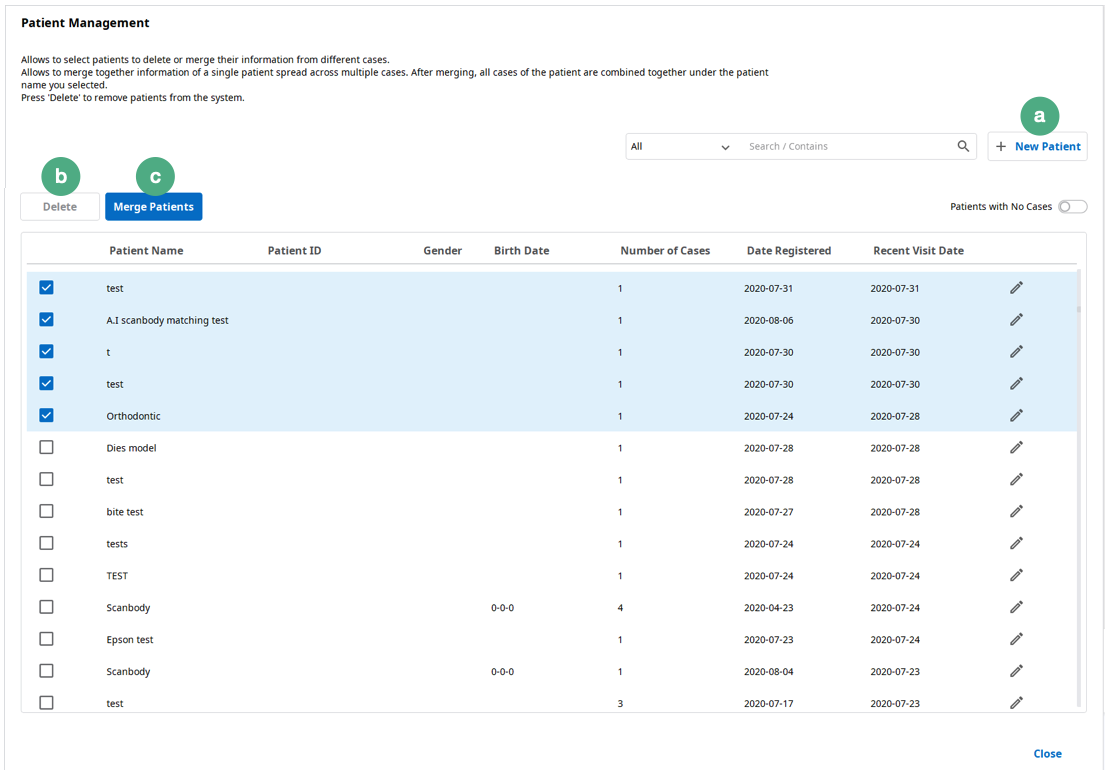 (a) Adding patients
: You can register a new patient.
Click "New Patient".
Enter the required information in the pop-up window, then click "Save".
(b) Deleting patients
: You can delete only patients whose cases don't exist.
Select the patient you want to delete from the list.
Click "Delete".
(c) Merging patients
: If you have multiple patients registered for the same patient, you can merge them so that their cases have an identical patient information.
Select patients you want to merge from the list.
Click "Merge Patients".
Select the patient you'd like to merge all cases into.
Click "Apply".
[G] Notice & upadate
[H] Quick link to the Medit Link website: www.meditlink.com
[I] Quick link to the Medit Help Center: https://support.medit.com