Symptoms
The error message "Failed to find two cameras" appears on the scanner status window.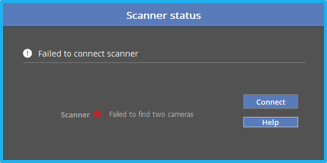 Solutions
[1] Check the USB cable connection and try a different USB port.
Change the USB 3.0 port to the motherboard USB port. Turn off the scanner first and shut down the computer. Connect the scanner cable to the motherboard USB port and restart the computer. Wait until the booting process is complete and then start the scanner to check if the issue is resolved.
Install the PCI card onto your computer and change the USB 3.0 port to the PCI card.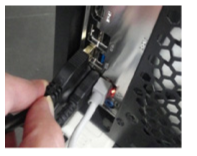 [2] Check the camera device status in Device manager and update or reinstall the drivers.
Go to Device Manager > View and click Devices by connection.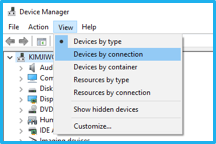 If the scanner is connected properly, you will be able to find the following items:
- Identica Blue / Light
: Medit USB Remote NDIS Network Device
: Medit ML USB 3.0 Camera
: Medit ML USB 3.0 Camera
: USB Serial Port (COMx)
- Hybrid
: Medit USB Remote NDIS Network Device
: Medit CB USB 3.0 Camera
: Medit ML USB 3.0 Camera
: Medit ML USB 3.0 Camera
: USB Serial Port (COMx)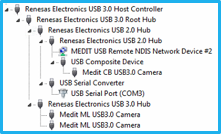 - T-series
: uEye UI-325x Series
: uEye UI-325x Series
: USB Serial Port (COMx)