The processing time to obtain the final scan data can be shortened by importing previously scanned data in instances where there are no changes to the teeth. You can import mesh data instead of scanning it, and use this in the same way as you would use scan data. You can also export scan data in a mesh format for future use. The program supports STL and OBJ as file formats.
In this article, we are going to demonstrate how to export/import mesh files using a case example.
1. Enter the required information for the job settings to scan the model and click Save & Scan to set up the scan strategy.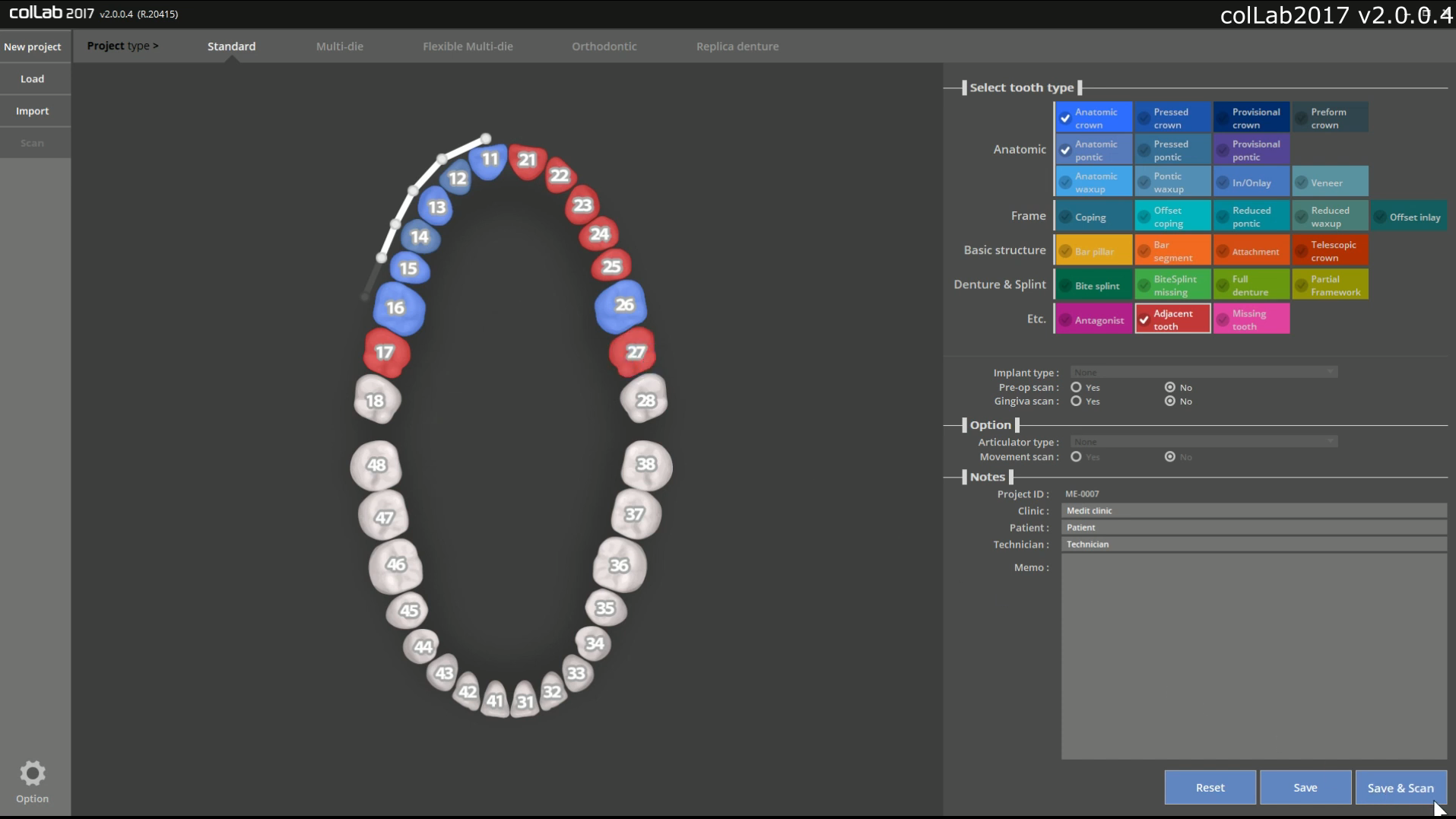 2. For the upper base model, we will use the Multi-die feature. Choose Multi-die and Base for the Align scan data setting. Click Confirm to proceed with scanning.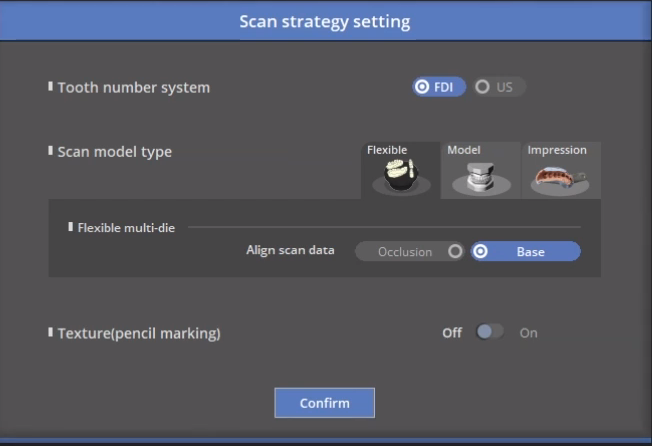 3. Insert the flexible multi-die into the scanner and click Next to set the scan depth. Click and drag the blue arrow to set the scan depth and click Confirm to begin scanning.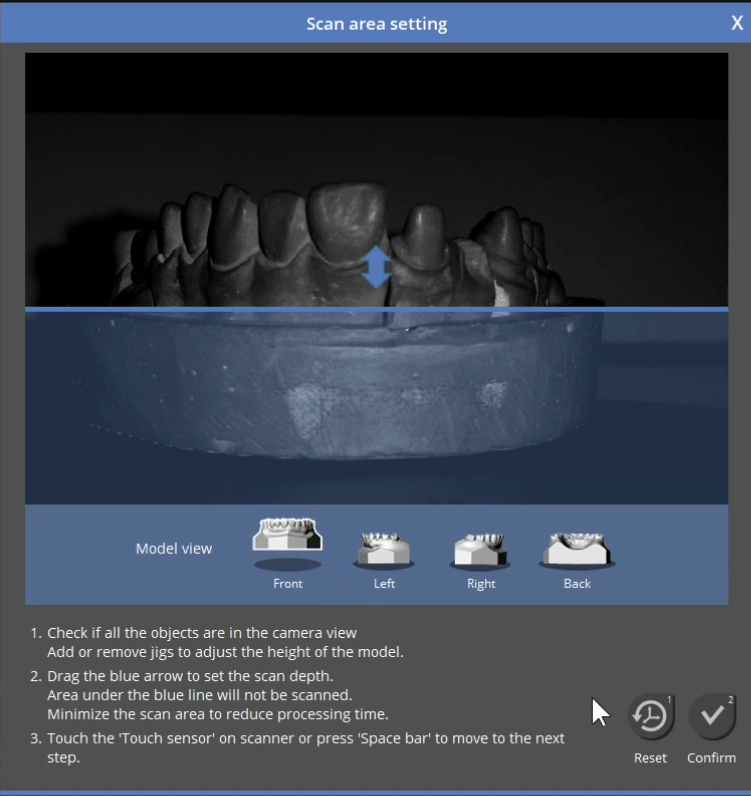 4. Scanning of the upper base is complete. Rotate the scan data to check if it requires additional scans. You can Add Scans to areas as required.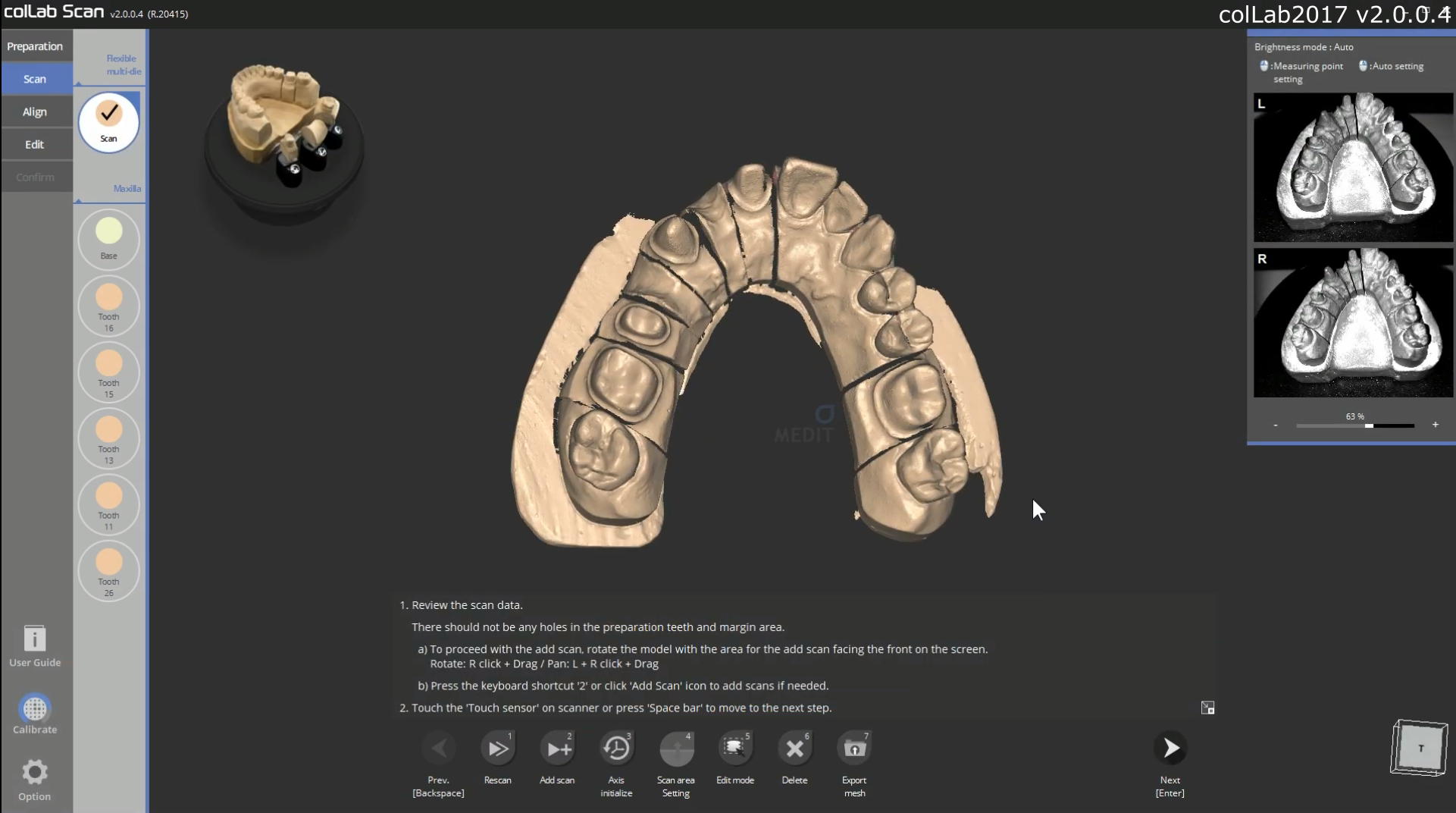 5. Now, let's export mesh data. Click the Export mesh button at the bottom of the screen and select the folder to save the file. Once the export process is complete, you can find the newly created file in the selected folder.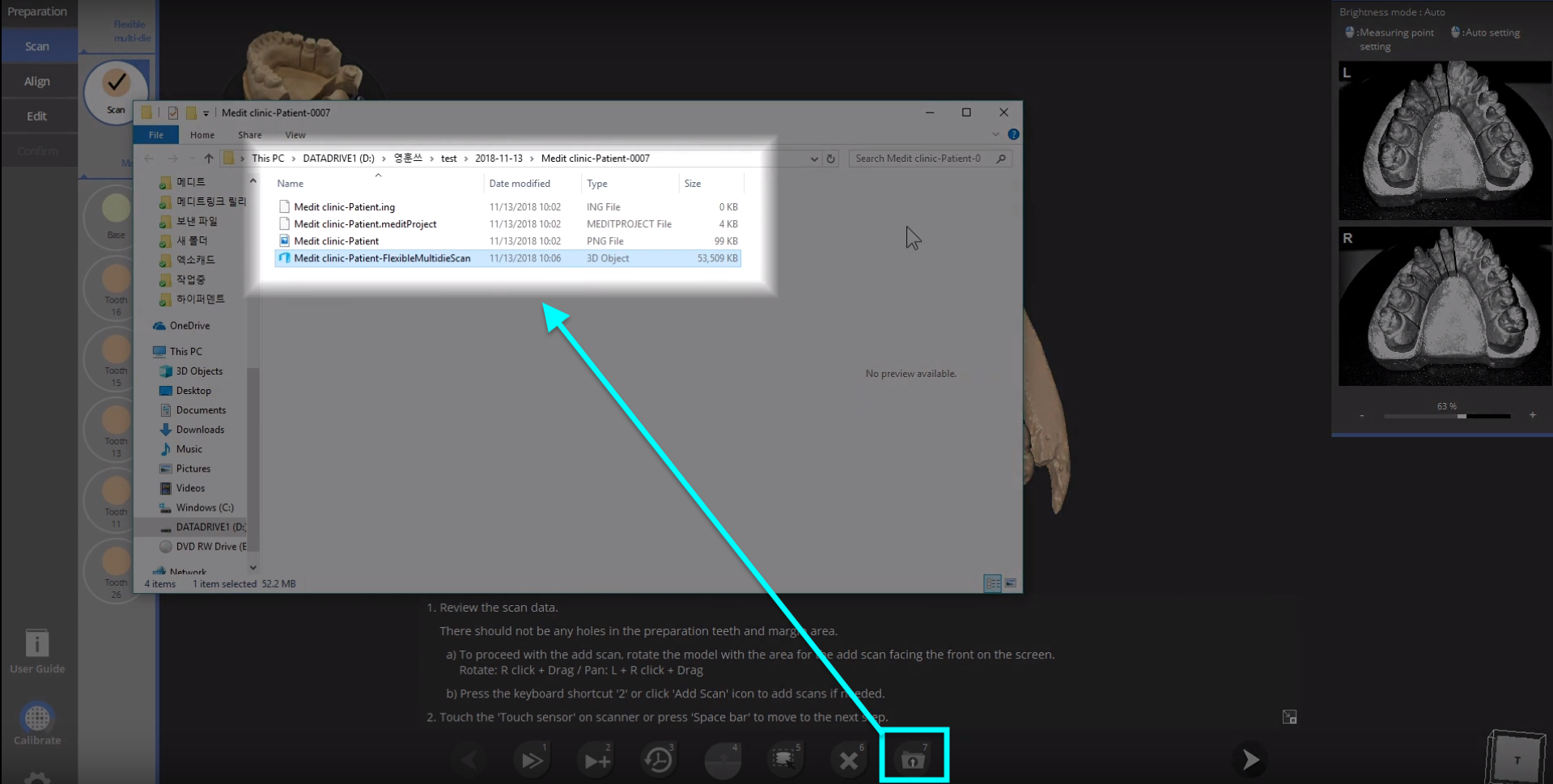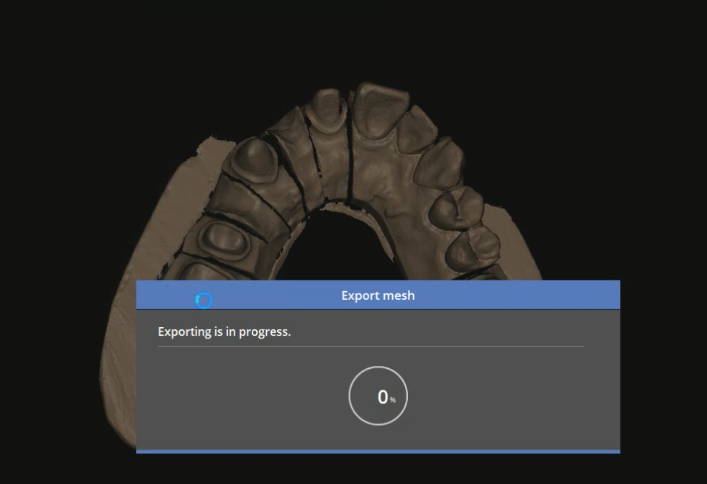 6. Click Next and move to the next step. Mark the tooth by clicking the corresponding tooth according to the tooth number appearing at the bottom left corner of the screen. Complete for all the teeth and click Confirm.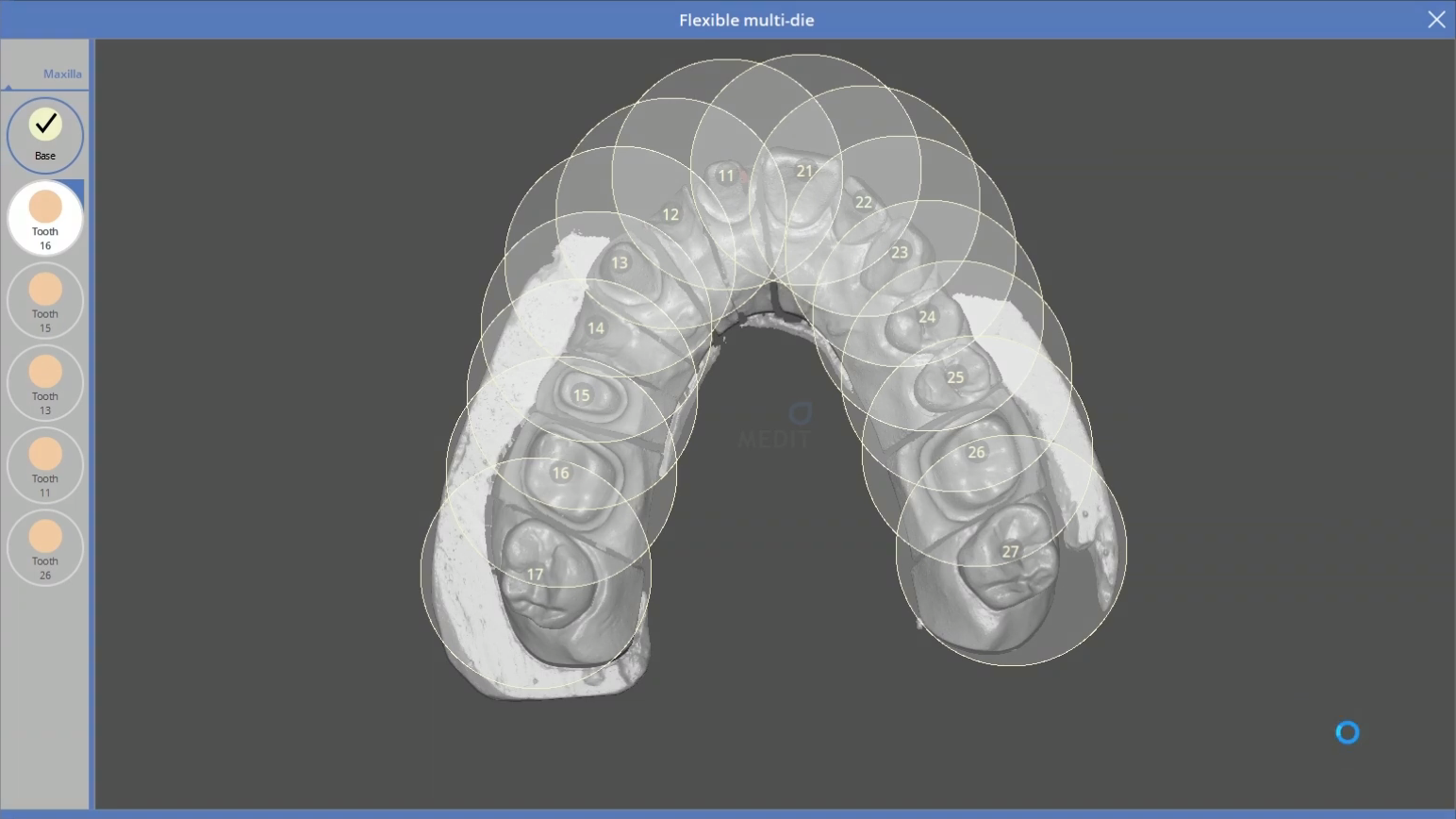 7. Click Next to proceed to the next step where we will be importing teeth scan data without scanning them again.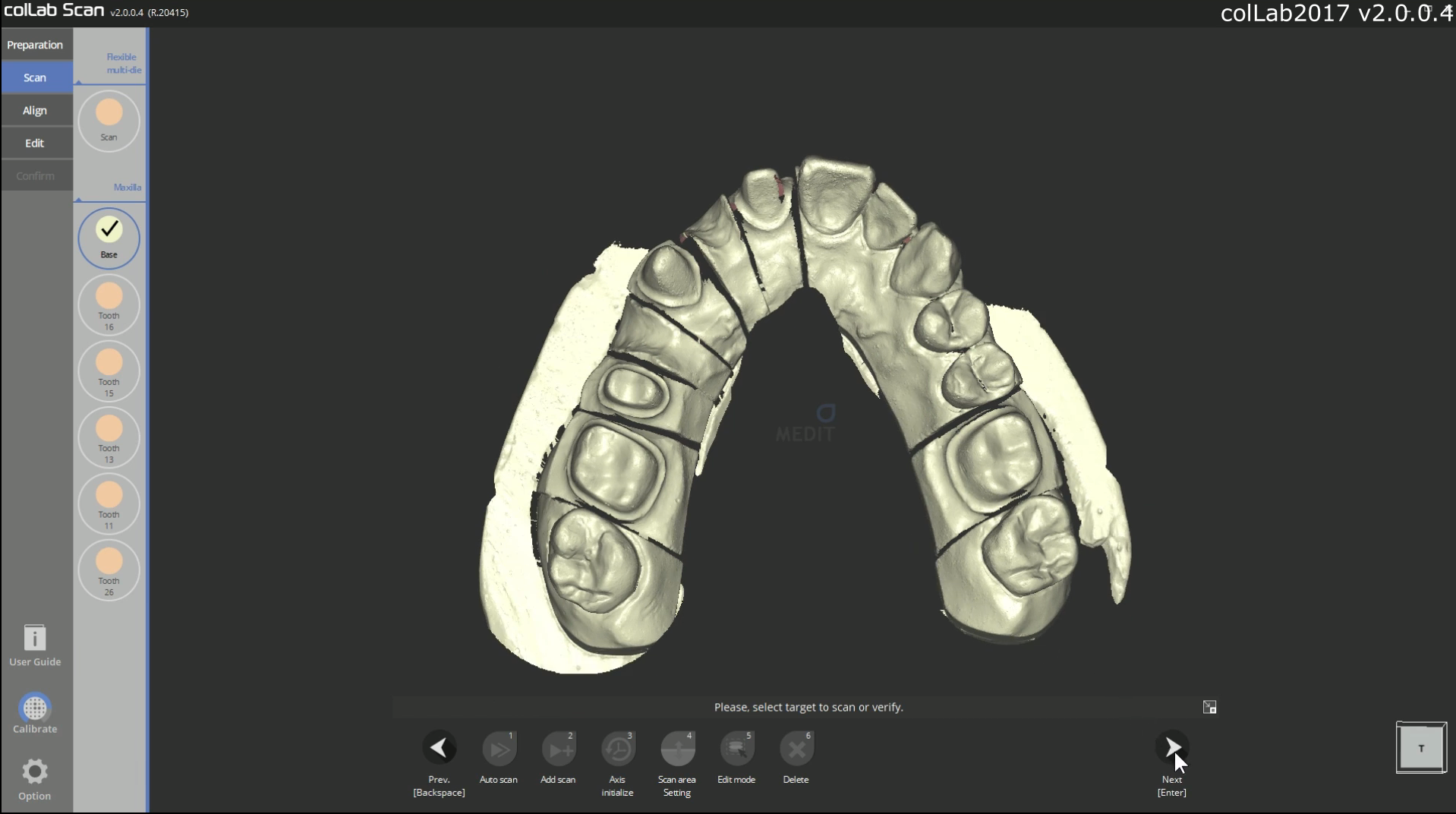 8. Click the Import mesh button at the bottom of the screen and select the file to import in the file explorer window.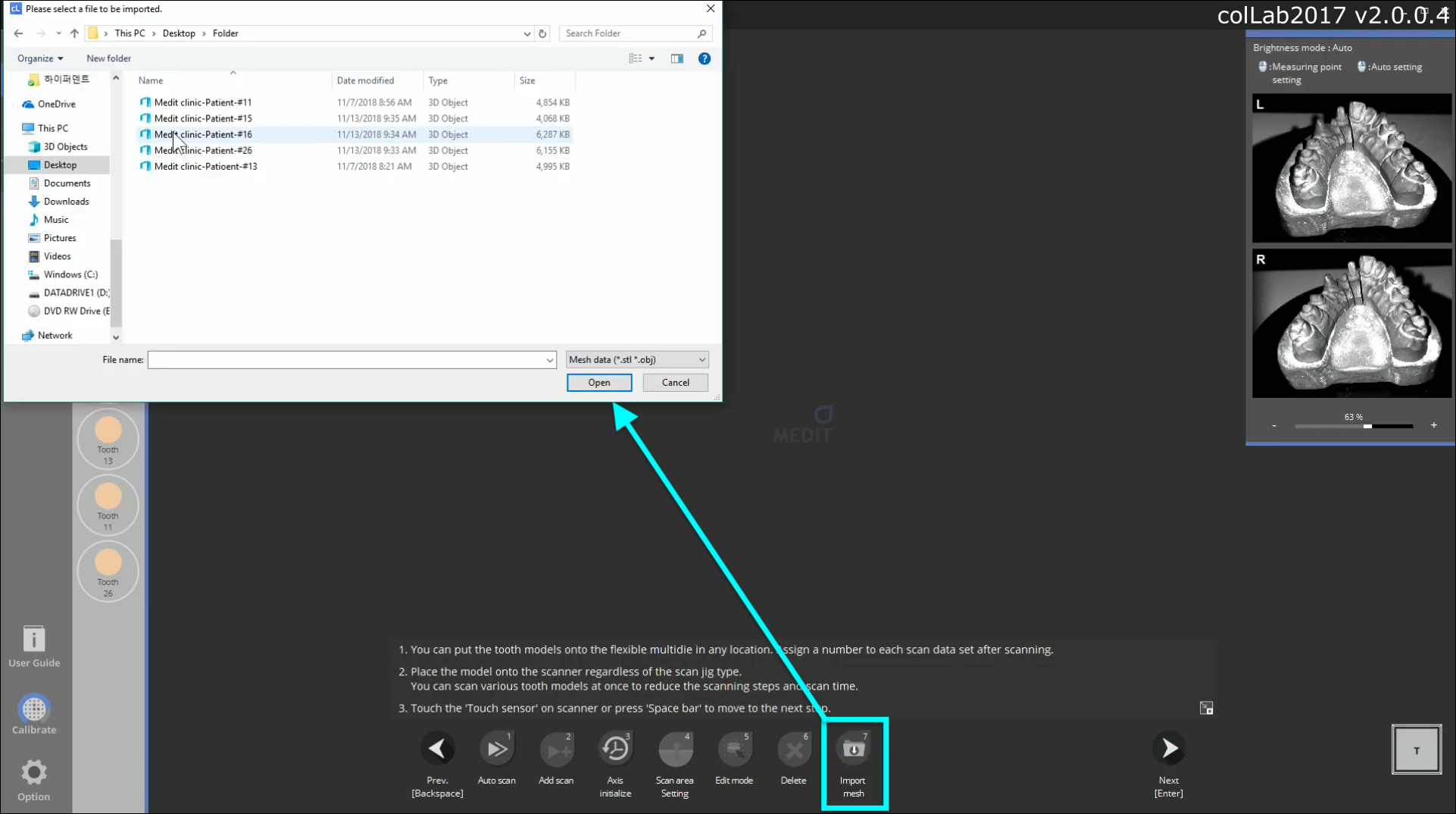 9. The import process is complete, and you can check the imported tooth data you have selected. Mark the corresponding tooth number on the scan data.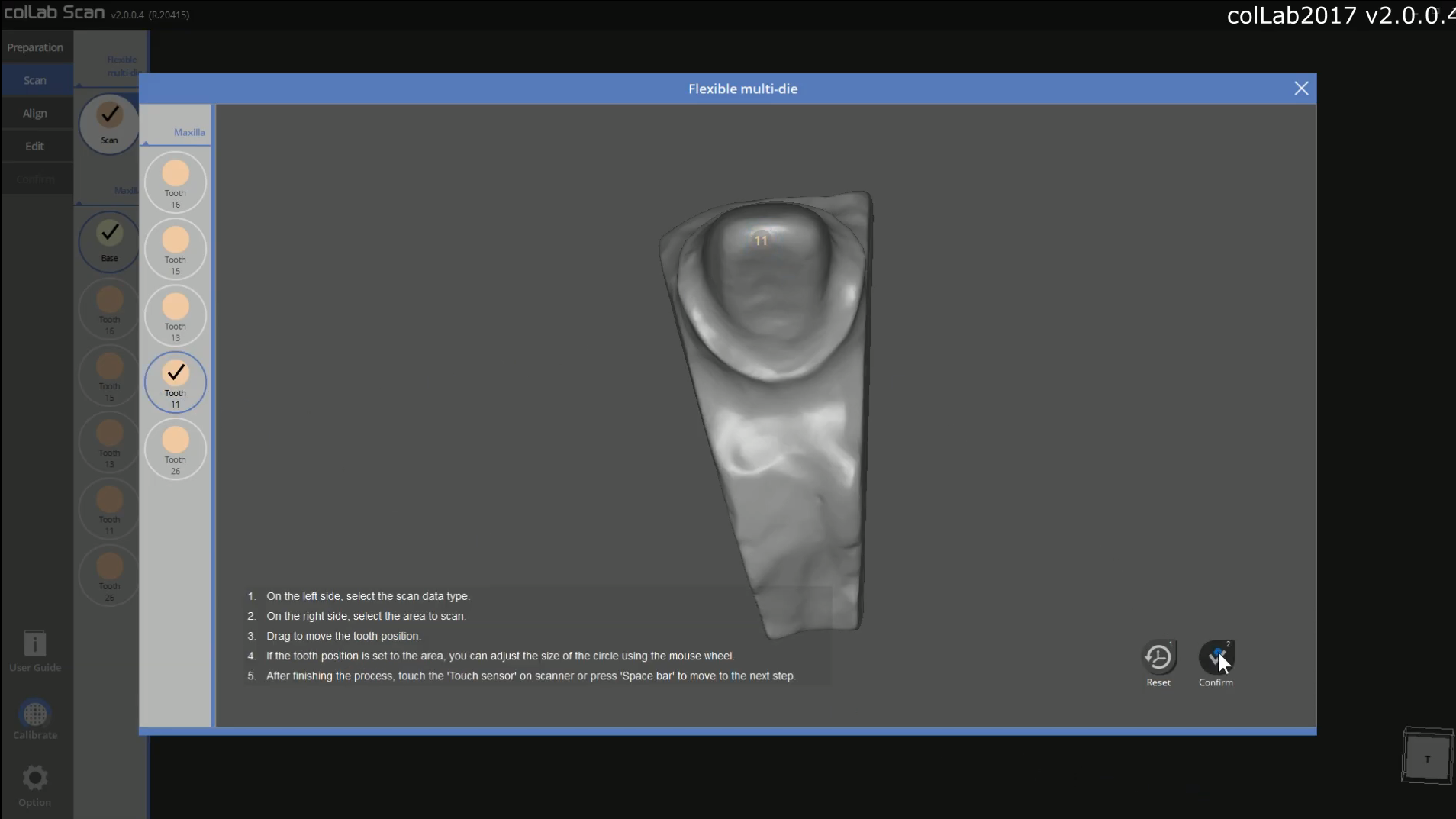 10. Repeat for all the imported data of the teeth.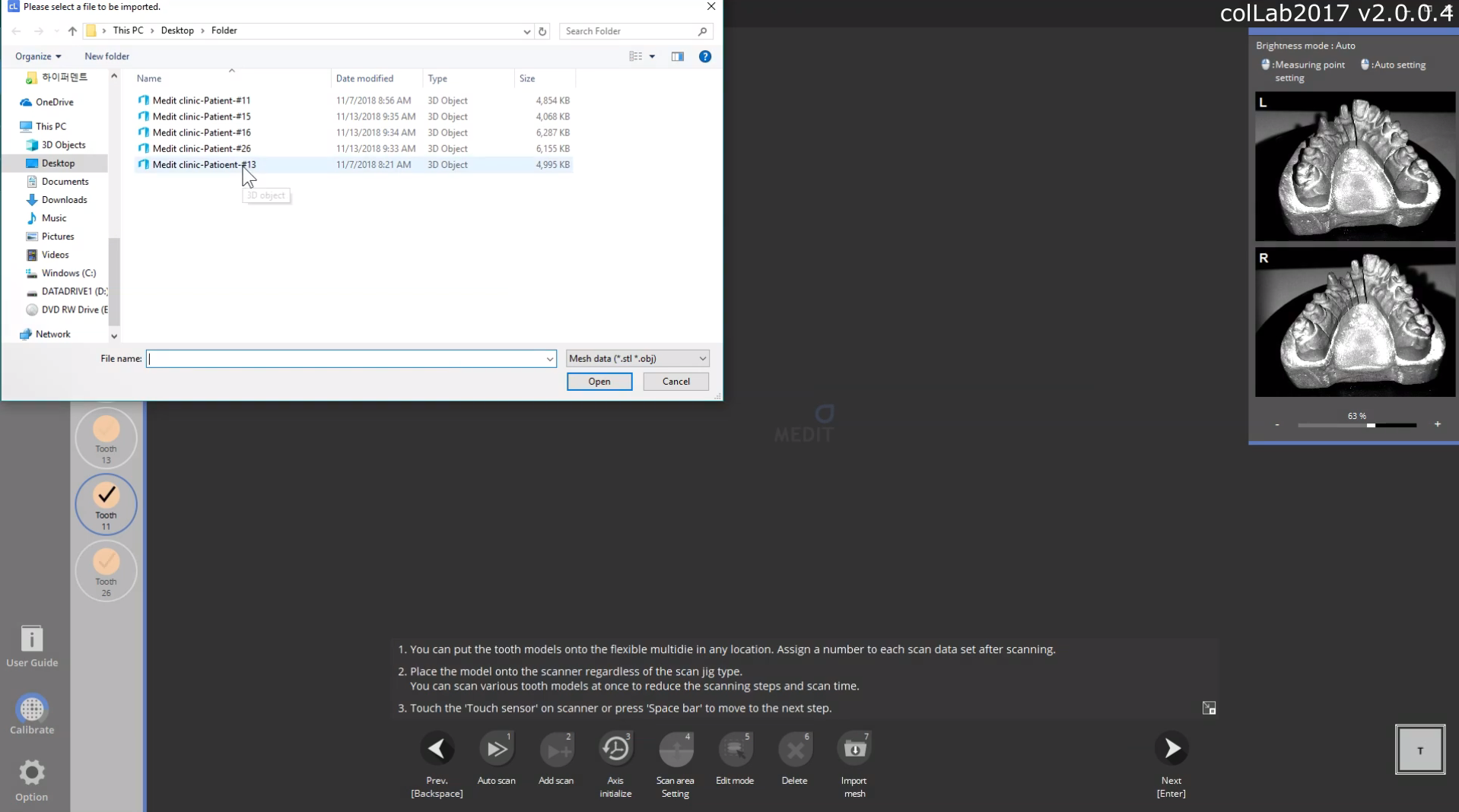 11. Let's align the prepared teeth scan data by using the automatic alignment or manual alignment method. In this case, we will be using the 1 point alignment method.
Mark an alignment point on the prepared tooth and the base model respectively, and click Next.
Repeat for all the prepared teeth.
If you're satisfied with the automatic alignment results performed by the program's intelligent alignment feature, you can simply click Next to proceed to the merging stage.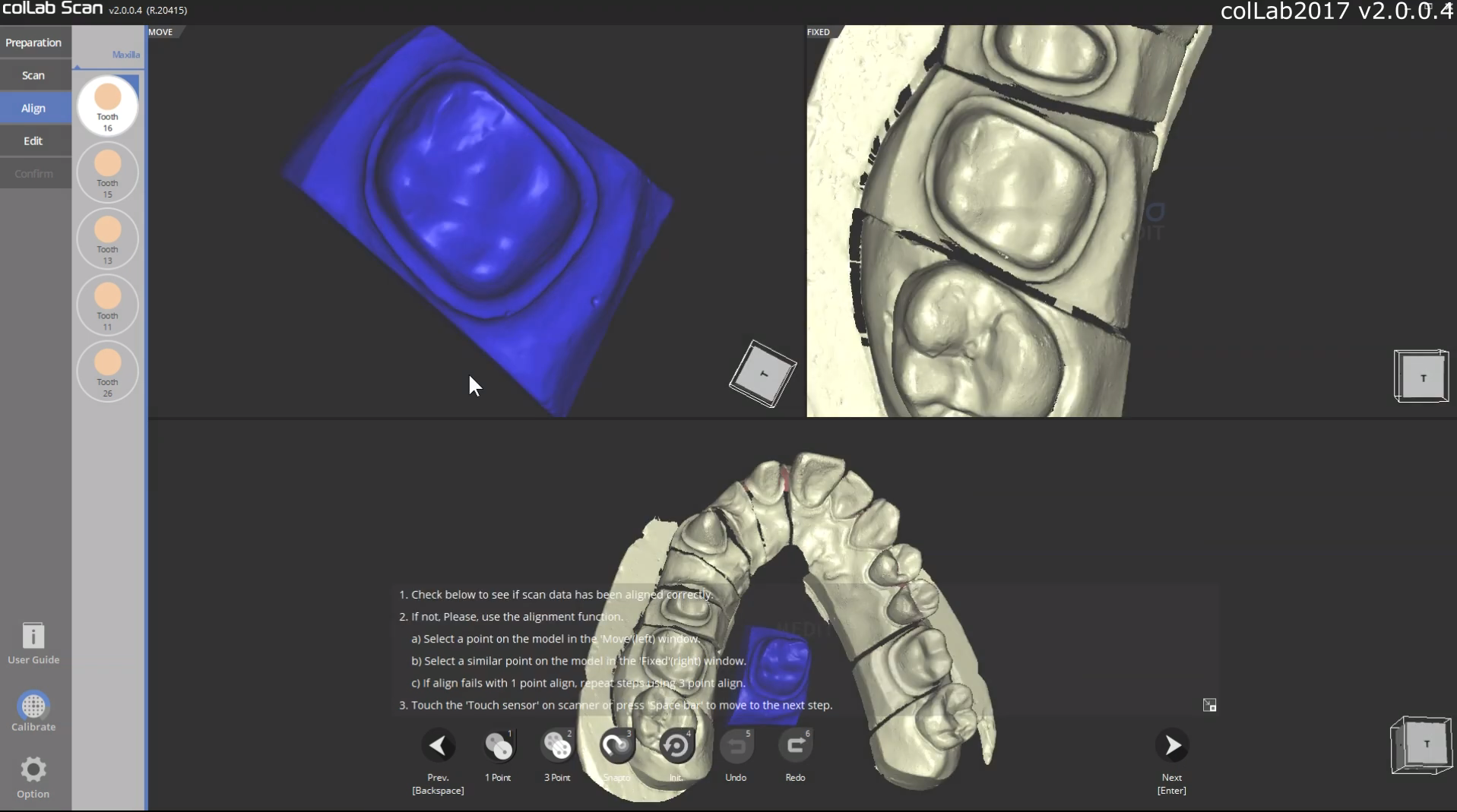 12. Click Next to start merging the scan data.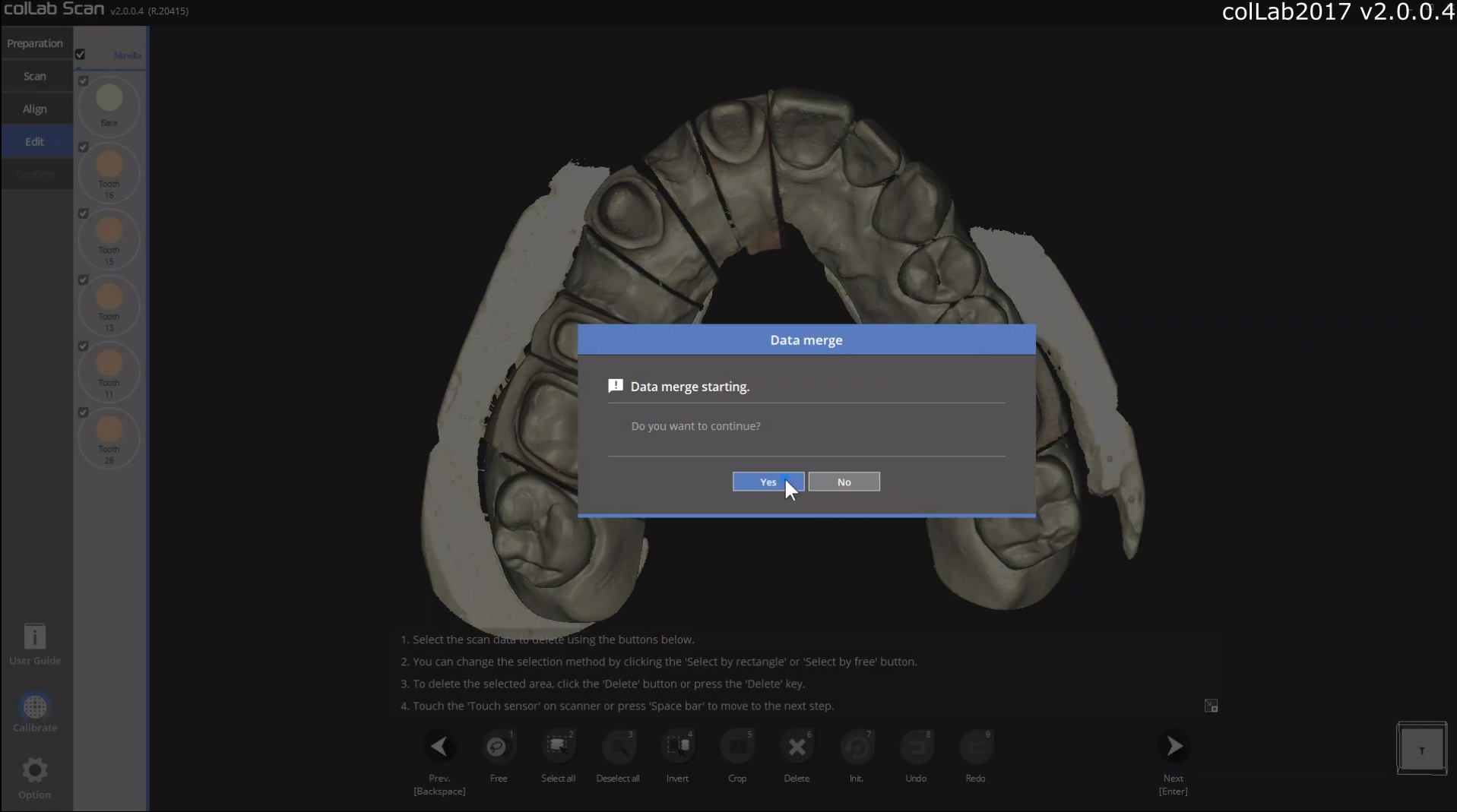 13. Merging is complete. Click Next to save the scan data and exit the program.
You can still edit the scan data by using the editing tools after merging. You can remove unnecessary data as desired.