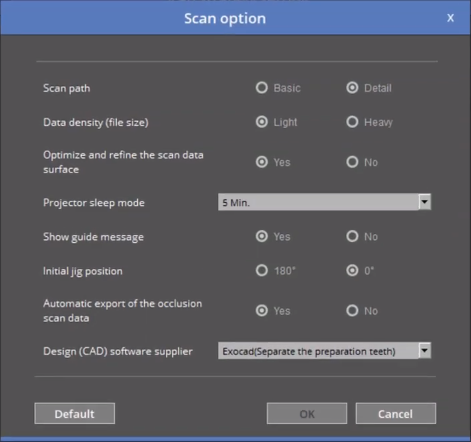 ❏ Scan Path
adjusts the scan path according to the selected option between "Basic" and "Detail".
Basic: The system acquires the least amount of scan images so that users can perform additional scans depending on their needs. (for expert users)
Detail: The system acquires scan images from various angles so that users don't need to perform additional scans in most cases.
❏ Data density(file size)
controls the size of final results(scan data).
"Light" uses more compression to reduce file size.
"Heavy" uses less compression, resulting in a larger file size.
❏ Optimize and refine the scan data surface
Yes: uses the advanced algorithm for resulting high-quality scan data. (Quality priority)
No: uses the basic algorithm to result in the final scan data quickly. (Speed priority)
❏ Projector sleep mode
The system automatically switches off the projector after selected duration of inactivity in order to preserve the lamp's lifespan. The duration of inactivity is adjustable.
❏ Show guide message
Hides or shows guide messages that appear in the colLab Scan program.
❏ Initial jig position
sets the initial position of the scanner jig between 0° or 180°.
❏ Automatic export of the occlusion scan data
creates the occlusion scan file separately in a selected storage location.
❏ Design (CAD) software supplier
adjusts the axes of scan data to be compatible with a selected design program.