You can configure various scan options that fit your preference. In this article, we will walk you through how to set your scan options.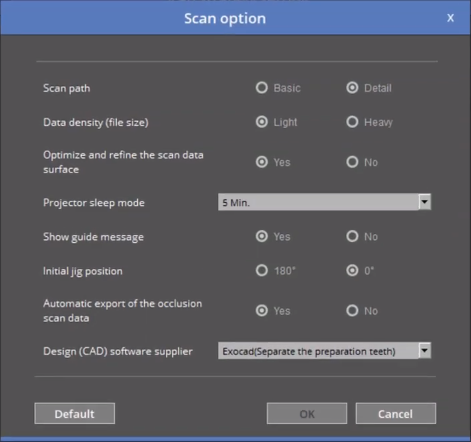 - Scan Path: Controls the number of scans used for 'Auto scan'.
Basic: The system will perform the minimum number of scanning for "Auto scan", and additional scanning may be done manually by using "Add scan" to capture areas which did not get scanned. This option is recommended for highly experienced users.
Detail: This consumes more time due to extra scanning. However, this function captures more areas of an object and minimizes the need to do additional scanning by performing "Add scan" manually.
- Data density(file size): Controls the amount of compression used for scan data. "Light" uses more compression to reduce file size. "Heavy" uses less compression, resulting in a larger file size.
- Optimize and refine the scan data surface: If the checkbox is ticked, data will be optimized during the merging process. This means the process may take a longer time if enabled.
Yes: Uses a new algorithm for merging data which optimizes the quality of scan data during the merge. This option takes more time to process but results in better quality data.This option is recommended for when better data is more important than processing time.
No: Uses an older algorithm that processes data faster with lower quality results. This option is recommended for when speed is more important than data quality.
- Projector sleep mode: The system turns off the projector if the scanner is not used for a specified period during the scan stage. You can set the period of idle time before turning off the projector.
- Show guide message: Determines whether guide messages are displayed during each scan stage. Use "Yes" for new or occasional users and "No' for advanced users.
- Initial jig position: Controls the jig position on the scan stage. For example, you can use this setting to position the jig clamp screw to the front of the scanner for a faster workflow.
- Automatic export of the occlusion scan data: From colLab ver 2.0.0.4 onwards, you will be able to export the occlusion scan data separately by choosing this option. A corresponding occlusion file will be created once you export the scanned data.
- Design (CAD) software supplier: You can control the X, Y, Z orientation of the data to be compatible with the desired CAD application to ensure that imported data will appear in the correct orientation.