The Medit Link application supports offline mode for cases where your network is unstable or there is no available connection. When the application is in offline mode, you will still be able to use all features except for order, delete, and sync.
⚠️ The cases created in online mode cannot be deleted in offline mode.
1. Start the Medit Link application.
2. You can enable offline mode by performing one of the following:
Click My Information(the gear icon) at the bottom-left corner to open the My Information window.
Click the Network connection icon in the upper-left corner of the title bar.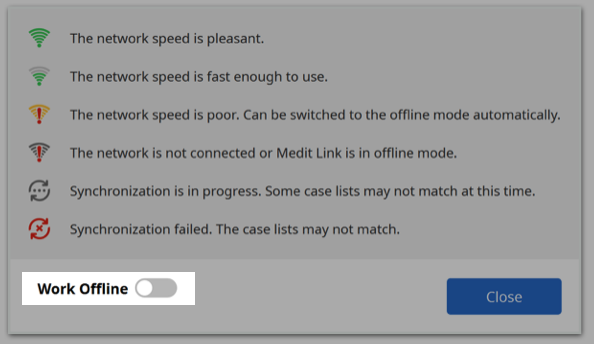 3. Turn on the Work Offline option.
When the PC is connected to the network while in offline mode, or when you manually switch back to online mode, offline mode will be disabled and the file sync process will be reinitiated.
There is no time limit to use the Medit Link application in offline mode but you can only use iScan in offline mode for up to 44 days.
The offline mode is only available for accounts that have previously logged in to the Medit Link website. If a user has never logged in to the website, the offline mode option will not be available.