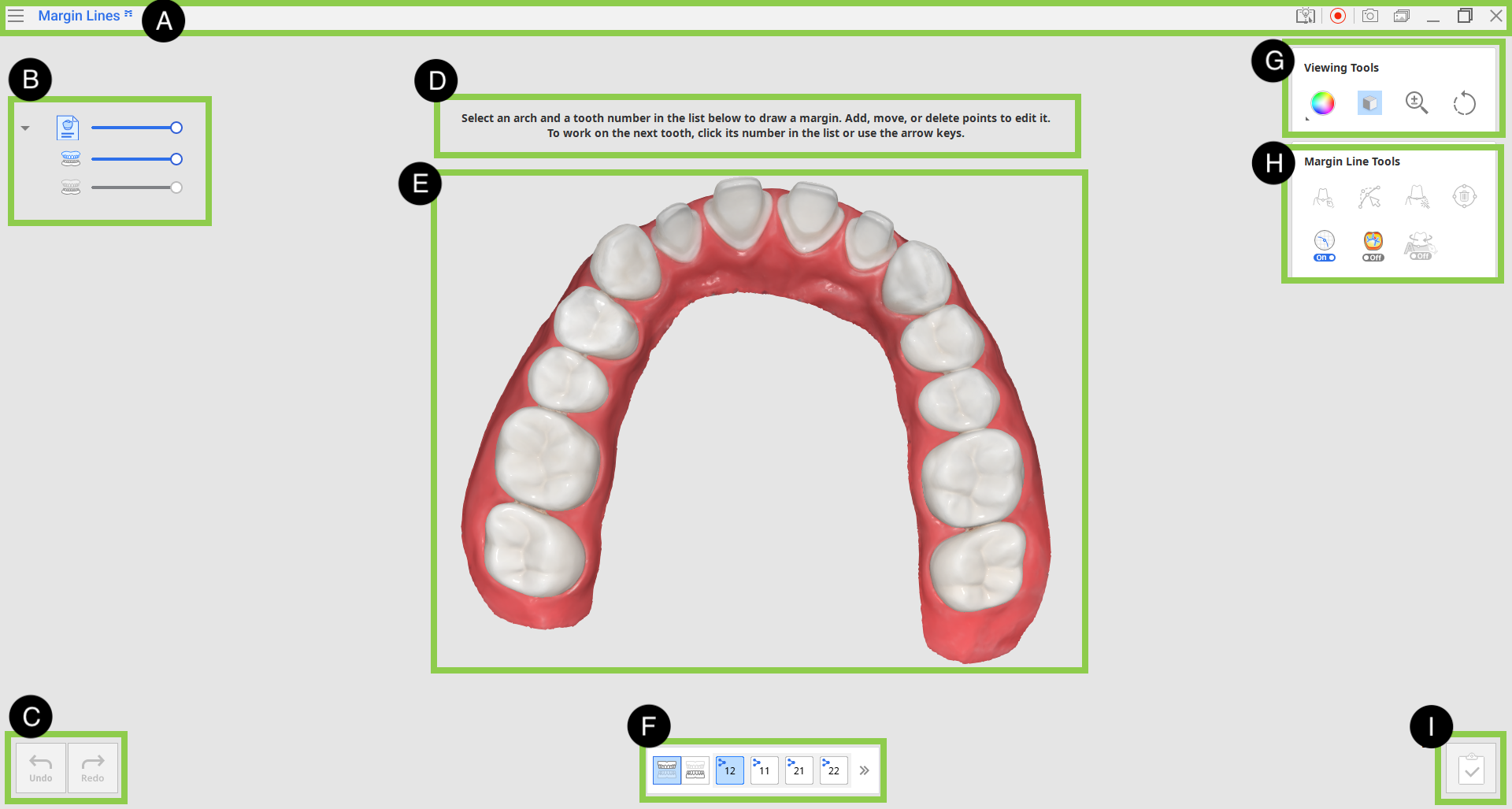 A. Title Bar
The Title Bar includes the following options:
Menu: The menu includes tools to manage project options and show the details of the application.
Help Center: Go to the Medit Help Center page.
Start Video Recording: Start the video capture.
Screenshot: Capture the screen. You can select the area automatically or manually. With the automatic selection, you can capture the application area with or without the title bar.
Screenshot Manager: Used to manage screenshots.
Minimize: Minimize the application.
Maximize or Restore: Maximize or restore the application window.
Exit: Close the application.
B. Data Tree
The Data Tree is located on the left side of the screen and displays the list of data you are using in groups. You can easily show/hide data and change the transparency of each data or data group.
e.g.) Scan Data Group: Maxilla, Mandible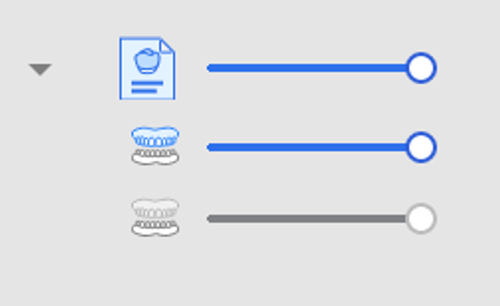 C. Undo/Redo

Undo: Used to undo the previous action.

Redo: Used to redo the previous action.
D. Guide Message
E. 3D data
F. Teeth List
The teeth list at the bottom of the view screen represents the form information.
Click on the maxilla or mandible icons to view the corresponding teeth list and work on margins for those teeth.
You can select a tooth number from the list by clicking it or using the left and right arrow keys.
Teeth bearing the Medit Link logo mean that the tooth was registered in the case form.

Use Expand/Collapse icon to see the full list of teeth not registered in the form.
G. Viewing Tools
Viewing Tools contains useful tools for displaying, viewing, and working with data.

Change Data Display Mode
Used to change the data display mode.
Textured, Textured with Edges, Monochrome, Monochrome with Edges

Grid Settings (mm)
Show or hide the grid. (Grid overlay on/off)
Click multiple times to control grid overlay options.

Zoom
Left-click and drag the mouse to zoom.

Rotate
Left-click and drag the mouse to rotate.
H. Margin Line Tools
Margin Line Tools include instruments for automatically or manually creating dental margins, editing, and managing dental margin lines.

Manual Creation
Used to manually create a dental margin line based on the selected points.

Edit
Used to edit the dental margin line. Add, move, and delete the control points.
Auto Creation
Used to automatically create a closed margin line based on the selected point.

Delete
Delete the dental margin lines.

Section View
Displays the section of the area where the mouse is located.
Curvature Display Mode
Used to see the curvature of the data through Color Map.

Dynamic View Change
Turn on Dynamic View Change to have the data rotated automatically based on the view direction.
💡This feature is available only when using Manual Creation.
I. Complete

Complete: Finish working on dental margins and save results to Medit Link.